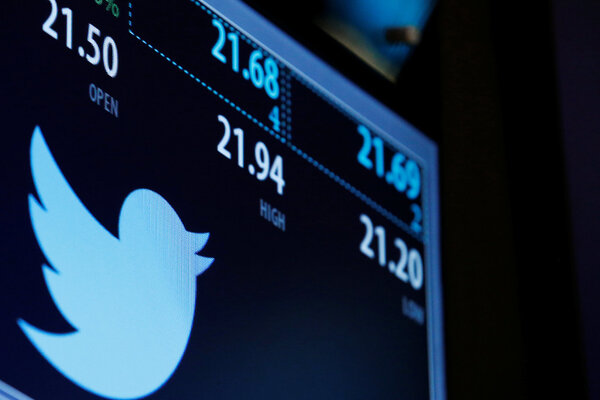 Twitter users pen some 500 million tweets a day, and that would seem to bode well for the success of the social media service. But a closer look at Twitter's economic standing shows that the platform could be at risk of losing its relevance.
After years of slow advertising and user growth, Twitter has begun to question its future as an independent company, and reportedly entered into talks with possible buyers. Despite Twitter's popularity among celebrities, politicians, news outlets, and users across a range of ages, the service hasn't been able to continuously expand its audience or grow revenue in the ways that other social media platforms have. Instead, Twitter has become a digital-first company that's merely limping along in the digital age.
While Twitter has not acknowledged a pending sale, the news that the service could be contemplating an acquisition caused the company's stock value to jump by 21 percent, indicating that interest in the platform remains, especially under different management."We're in a strong position now, and as a board member we have to consider the right options," Ev Williams, a co-founder of Twitter, told Bloomberg last month when asked about the possibility of a sale.
One of the companies reportedly interested in taking over Twitter is Salesforce.com Inc., which provides software services to businesses. Analysts say Salesforce could use data from Twitter to gather information its clients find valuable, including how customers talk about products and brands.
Twitter's struggle to attract new users and advertisers contrasts with the success of other social media platforms like Facebook, Instagram, and Snapchat, which have all upped their number of advertisers and rolled out smartphone services that have appealed to users. Meanwhile, Twitter's stock has dropped by about 30 percent in the past year and the company's value fell to $13 billion. The service peaked nearly three years ago when it was valued at just over $40 billion, The Wall Street Journal reported.
Despite disappointing numbers, many think Twitter's reign is far from over, and plans to introduce live video with highly-sought-after advertising blocks have piqued the interest of big name brands like Ford and the NFL. Doing so will require Twitter to compete with Snapchat, a service that has seen nearly a 50 percent growth in users and could soon exceed a worth of $20 billion.
"Pictures have become free," Forbes columnist Adam Hartung wrote, explaining Snapchat's success as a new trend. "And if you can replace a thousand words with one photo, it is far more efficient – and thus from a resource perspective photos are far cheaper (think of how long it takes to write an email as opposed to taking a picture)."
While Facebook, Instagram, and Snapchat have added expanded features to their products, Twitter has seen far less innovation over its 10-year lifespan, and missed an opportunity to capitalize on messaging in the ways that Snapchat and Facebook have.
A CEO shakeup also hit the company last year, with many hoping that the return of co-founder Jack Dorsey would refocus Twitter's direction. Instead, the company saw an exodus of talent, as several key employees departed for other ventures, and user growth remained at an all-time-low of 1 percent.
But after years of thriving in the social media world, Twitter could make a comeback – if it can capitalize on the initial aspects that made it appealing to a large group of users.
"The core ideals that made the product great are not lost, yet, even if they've been obscured," tech journalist Joshua Topolsky wrote in a New Yorker piece early this year. "The directness and power at the heart of Twitter – short bursts of information that can make you feel that you're plugged into a hulking hive mind – are still its greatest asset. The company just needs to find the right way to show the power of those connections to a bigger audience, and the value of that audience to advertisers and partners. Not a simple task, but for Twitter an unavoidable one."
[Source:-The Chirstchan Science Monitor]