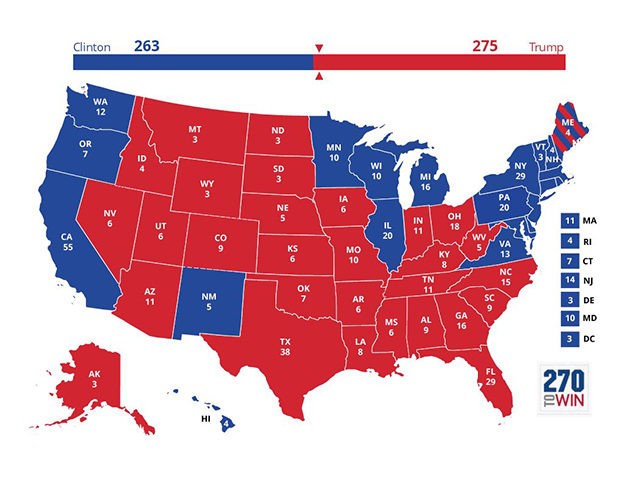 NEW YORK CITY, New York — As the first presidential debate looms later Monday evening just an hour from here on Long Island at Hofstra University, a Breitbart News analysis of current polling in the presidential election shows that Donald J. Trump—the Republican nominee for president—would win the election if it were held Monday and the polls are correct.
It takes 270 electoral votes to win the election. With the exception of two states—Maine and Nebraska—the winner of a state wins that state's electoral votes on Election Day in the general election.
The reliably red Republican states—Alaska, Idaho, Utah, Montana, North Dakota, South Dakota, Wyoming, Nebraska, Kansas, Oklahoma, Texas, Louisiana, Arkansas, Missouri, Indiana, Mississippi, Kentucky, Alabama, Tennessee, West Virginia, and South Carolina—are all expected to easily vote for Trump for president. That totals 164 electoral votes.
Despite initial polling scares during the darkest days of Trump's campaign in also reliably red Georgia and Arizona, both of those states—per recent polling—have seemingly moved solidly into the Trump column. That's another 27 electoral votes, for a total of 191 electoral votes with the other red states.
From there, add in Florida with 29 electoral votes. Most recent polling out of Florida—with a couple rare exceptions—has shown Trump with a slight or modest lead. One outlier poll from Monmouth drags the RealClearPolitics polling average in the four-way race between Trump, Democratic nominee Hillary Rodham Clinton, Green Party nominee Jill Stein, and Libertarian Gary Johnson down to a 0.1 percent Trump advantage in the Sunshine state. But the billionaire real estate mogul leads in four out of the last seven surveys, and the only other two where Clinton has any lead it is inside the margin of error. Trump has had a comfortable cushion in Florida since Labor Day, and in the last poll conducted partially before it, he tied Clinton. Assuming Trump can lock down Florida and its 29 electoral votes that he will need to win the White House, and add that to the rest he already has, he then hits 220 electoral votes.
Move from there out to Nevada and Iowa for a total of 12 more electoral votes—six per each state. In the three-way race in Nevada—Stein is not on the ballot in the Silver State—Trump has led in every poll in September, according to RealClearPolitics. During the course of the month, the man whose name is emblazoned across the top of a golden building just off Las Vegas Boulevard has steadily increased his lead from just a point in the first September poll by NBC News, The Wall Street Journal, and Marist, to two points in a Monmouth poll a week later, to three points in the latest two surveys from Fox Newsand KTNV/Rasmussen. His polling average is a 2.3 percent advantage over Clinton. It is so bad for Clinton in Nevada right now that even Politico ran a headline saying the state is giving Democrats "heartburn." Iowa is the battleground state where Trump is most comfortable right now. Trump has had a comfortable lead in all three Iowa polls this month—from Emerson, Monmouth, and Quinnipiac—and the RealClearPolitics polling average currently gives Trump a 6.3 percent advantage in the Hawkeye State walking into the debate. Fit Iowa and Nevada in the Trump column and he is up to 232 electoral votes.
Next up is Maine's Second Congressional District. Maine is one of those two funky states that splits its electoral votes by congressional district—Nebraska, which is solidly in Trump's column, is the other—and Trump is polling significantly ahead of Clinton there. The only three public surveys done in Maine's second district—all of which were done in September—give Trump massive leads outside their margins of error. The first, byEmerson, showed Trump with a five-point lead over Clinton at the beginning of the month in a four-way race. A second poll from Colby College/SurveyUSA done mostly after Labor Day gave Trump a ten-point lead, and that finding was confirmed by a later poll from MPRC—a progressive group—that had Trump up 11 points in Maine's Second District. Hewas also trending upward statewide, and in the RealClearPolitics average statewide only trails Clinton by 3.8 points. But for now, let's just give Trump the place that's firmly in his column—the Second District—and that is just one electoral vote. With that picture, he is at 233 total electoral votes.
North Carolina, another state where Stein is not on the ballot, has seen Trump trend upwards in polling during September. There has not been, according to RealClearPolitics, a single poll conducted entirely in September that has shown Clinton leading in the Tar Heel State. Trump has been leading, or the two were tied, in every three-way race poll since a Quinnipiac poll conducted partially in August and partially in September was released. RealClearPolitics has Trump's polling average at a 1.8 percent advantage over Clinton in North Carolina, but his most recent poll—from Fox News—put him at a five-point lead there. If Trump locks down North Carolina's 15 electoral votes on top of everything aforementioned, that puts him at 248 total and in striking distance of the presidency.
This brings us to the all-important state of Ohio. The Buckeye State is another where Clinton has not seen a lead in a public poll since the beginning of September in a CBS News/YouGov poll conducted from September 7 to September 9 that showed her up seven points. That outlier poll, the only one from Ohio this month showing her ahead in the four-way race, drags the polling average for Trump down to a two-point Trump advantage. Every other Ohio poll this month has shown Trump up, including separateBloomberg, CNN, and Fox News polls that show Trump up five points each. The Suffolk University poll mid-month shows Trump up three, and the new Breitbart News Network/Gravis Marketing survey just out on Sunday evening shows Trump holding onto the lead, up a point on Clinton. CNN's Jeff Zeleny on Sunday noted that Hillary Clinton has essentially given up on Ohio, saying, "So long, Ohio: It's been 20 days since Hillary Clinton stepped foot into this classic battleground state, and she's not expected to visit it again in the month of September." He said that while Hillary Clinton's campaign is still spending money there, "Ohio, the mother of all battleground states, is not in her wheelhouse anymore." If Trump locks up Ohio's 18 electoral votes, and adds them to everything else, he is at 266 electoral votes.
That means he would be one state away from the presidency. From where is it going to come? New Hampshire, Trump's first primary state win with four electoral votes? Virginia, the Old Dominion from where his opponent's running mate hails, with 13 electoral votes? Michigan, a blue collar state where American workers are seeing core companies part of their history like Ford move huge chunks of their to business to Mexico, with its 16 electoral votes? Wisconsin, where a bevy of recent surveys have shown a tightened race and from where the Republican National Committee (RNC) chairman and Speaker of the House hail—along with being a stronghold of his former rival-finally-turned-supporter Sen. Ted Cruz (R-TX)—and its ten electoral votes? Or Colorado, ironically the original birthplace of the so-called "Never Trump" movement, which has been, perhaps more than Wisconsin, a thorn in Trump's side, with its nine electoral votes?
For now, it appears the answer is first and foremost Colorado. The most recent Breitbart News Network/Gravis Marketing survey from Colorado shows Trump up four points over Clinton in the four-way race. The results—with the exception of a mini-surge by Stein, who seems to be taking Johnson's supporters away—mirror similar polling from Boston'sEmerson College earlier in the month. A CNN poll out Monday morning also confirms a Trump lead in Colorado, as it has him up a point over Clinton. That means two polls from Colorado this month have Trump up by four points, while two other polls—from CBS News/YouGov and Quinnipiac—have Clinton up one and two points respectively, negligible leads inside those surveys' margins of error. The only reason why Clinton currently leads in the RealClearPolitics polling average in the state—a meaningless lead of 0.2 percent in the spread—is an outlier poll from a couple weeks ago done by Rocky Mountain PBS that showed Clinton up 7 points.
If Trump secures Colorado's 9 electoral votes, along with everything else considered, he would win at least 275 electoral votes—without even considering Pennsylvania, Wisconsin, Michigan, Virginia, New Hampshire, or even other places where he has been seen trending upwards in polls like New Mexico—on November 8. That's the ballgame. Of course, this depends on what happens in the four debates. The first presidential one is Monday evening in Hempstead, New York, while next week will see the vice presidential debate in Virginia, and the following two presidential debates, in St. Louis and in Las Vegas, will occur in the next few weeks. The course of public events also play a factor, of course. But the race is Trump's to lose at this point, if the polls in the battleground states are accurate.
[Source:-Breitbart]