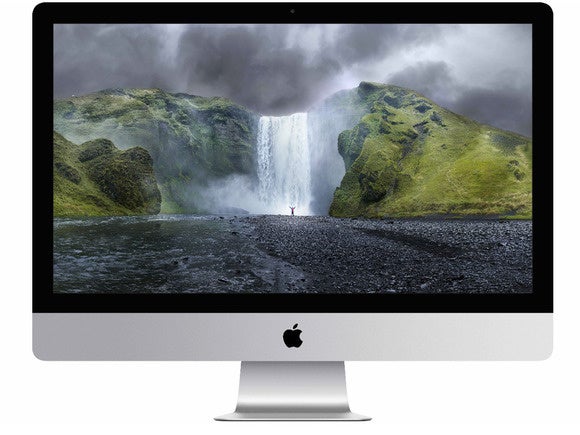 When Apple released the first 27-inch iMac with Retina 5K display late last year, all it took was just one look at the gorgeous images on the display and you knew you wanted it. Then you took a look at the $2499 price tag and suddenly you didn't want it as much as you thought.
So maybe you forgot about the Retina 5K iMac, until Apple announced a new, lower-priced model in May. The new Retina 5K iMac (

) is $1999, which isn't as scary a price. (Also, the $2499 Retina 5K iMac was reduced to $2299.)
How to make it more affordable
There are three major differences between the new $1999 Retina 5K iMac and the $2299 Retina 5K iMac. These three components are slightly slower than the ones found in the more expensive model.
Quick reference chart: Apple's current Mac desktop lineup
The first is the processor. It's still a quad-core Core i5 processor but it's a little slower: 3.3GHz with Turbo Boost up to 3.7GHz , compared to 3.5GHz (3.9GHz Turbo Boost) in the $2299 model.
The second is storage. The $1999 Retina 5K iMac comes with a 1TB hard drive. Even though it's a 7200-rpm drive, it's not as fast as the 1TB Fusion Drive in the $2299 model. (You can upgrade to a Fusion Drive for an additional $200.)
The third is graphics. The $1999 Retina 5K iMac has a 2GB AMD Radeon R9 M290 graphics, which is a notch down performance-wise from the $2299 Retina 5K iMac's 2GB AMD Radeon R9 M290X.
Everything else about the $1999 Retina 5K iMac is the same as its more expensive sibling. You get 8GB of RAM installed as a pair of 4GB SO-DIMMs, leaving two of the four slots open for upgrades. You get a built-in FaceTime camera, four USB 3 ports, two Thunderbolt 2 ports, a gigabit ethernet port, a SDXC card slot, a headphone jack, and a Kensington lock slot.
The Retina display is gorgeous
Of course, there's the marquee feature of this iMac, the display. The same 27-inch IPS display is used in both Retina 5K iMac models. It has a native 5120 by 2880 resolution, and in case you're wondering, Apple's default resolution setting in the Displays system preference is 2560 by 1440 (which you can turn up or down).
What Chris Breen wrote in his review of the 3.5GHz Retina 5K iMac still holds true for the $1999 Retina 5K iMac. To summarize: Compared to a 27-inch iMac with a standard display, text looks much crisper, and images are smoother .The differences are more noticeable on high-resolution images and video.
When I switched to using a Retina MacBook Pro everyday, I thought, "Yeah, the display is nice, but really, what's the big deal?" After a long period on the Retina MacBook Pro, I switched back to using a laptop with a standard display, and I finally realized what the big deal was all about. With the Retina 5K iMac, the crispness and clarity was much more immediately noticeable to me, perhaps because I'm much more attuned to using a Retina display, or because the size of the screen makes a bigger impression.
For some users, a Retina display is a luxury—there's nothing wrong with Apple's standard display, which produces good image quality. But if you deal with the details all day long—either in text, images, video, or all three—you'll appreciate looking at the Retina display. I'd even say it could help you be more productive.
That being said, the glossy display makes the iMac a non-starter for some users, Retina or not. Apple has made improvements so the glare and reflections aren't as severe as in older iMacs, but there's a contingent of users who really want or need a matte display. I'll repeat what's been said before in past Macworld iMac reviews: If you want a matte display, you'll never find it in an iMac. You need to make other arrangements, like connect an external matte display or buy a headless Mac.
Lower price, slightly lower performance
Since the new $1999 Retina 5K iMac has a 3.3GHz processor, you probably expect it to be a few notches slower than the $2299 Retina 5K iMac with its 3.5GHz processor. And that's what the benchmarks show.
The Geekbench 3 results show that the $1999 Retina 5K iMac is 4 percent slower than the $2299 Retina 5K iMac in the 64-bit multi-core and single-core tests, and 3 percent slower in the 32-bit multi-core and single-core tests. The $1999 Retina 5K iMac is also 4 percent slower in the Cinebench R15 CPU test. And in the Cinebench R15 OpenGL video test, the two machines posted similar results.
These benchmarks isolate certain components of the system—mainly the CPU and graphics—and the $1999 Retina 5K iMac doesn't really disappoint when compare to the $2299 Retina 5K iMac. The main difference is the $1999 Retina 5K iMac's 7200-rpm hard drive—it'll adversely affect the machine's performance on disk intensive tasks. The $2299 Retina 5K iMac has the advantage in this regard, with its 1TB Fusion Drive. You can upgrade the $1999 Retina 5K iMac with a 1TB Fusion Drive, but the upgrade jacks up the price to $2199, and at that point, you should just go with the $2299 Retina 5K iMac.
If it's pure multi-processing speed that you need, the better choice is a Mac Pro. Even though the current Mac Pro is getting to be long in the tooth—it was released in December 2013—it still sports better multi-core performance. But you'll have to buy a separate 5K display like the Dell UltraSharp 27 UP2715k, which costs $2500, more than either Retina 5K iMac. Or you can save some money and get an affordable 4K display. (You also need to be running OS X 10.10.3 or later.)
You can take a look at the Geekbench 3 and Cinebench benchmark charts here. Also included are numbers from the $2299 Retina 5K iMac, the quad-core and six-core Mac Pro, the standard 27-inch iMac, and more.
Read our complete reviews of the $2299 iMac with Retina 5K display (Late 2014) and the standard iMacs
Bottom line
The iMac with Retina 5K display is one of the most impressive desktop computers to come from Apple, and now there are two models from which to choose. The $1999 Retina 5K iMac is the better choice as an everyday computer for typical users—you probably won't notice the performance hit from the hard drive when using the Internet, working in productivity apps, putting together a short home video, or organizing the pictures you took for the day. Professionals and power users looking for a production machine to handle long video renders, high-detail photography, audio, and more should opt for the $2299 model with its Fusion

[source :-macworld]