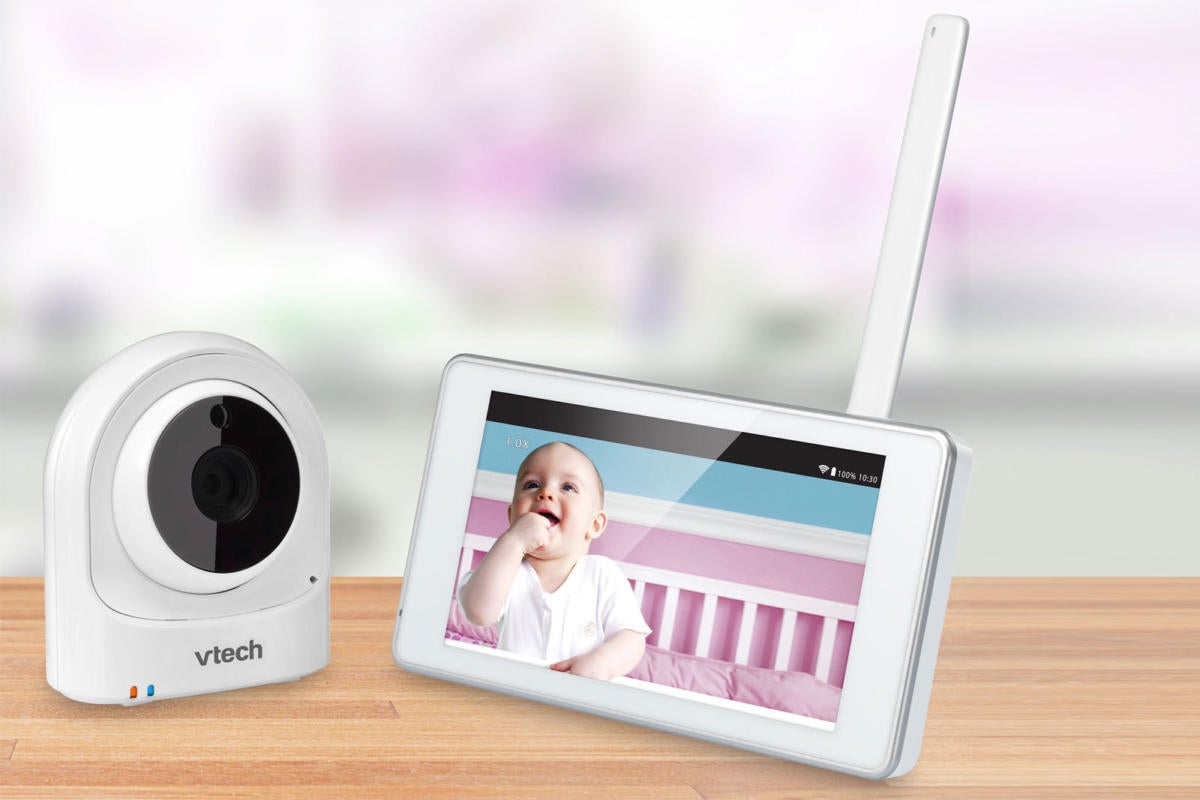 The boom in wireless home security cameras has inspired a lot of enterprising parents to take advantage of features like motion detection, two-way communication, and HD video to keep an eye on their babies and small children. That bit of DIY ingenuity has in turn inspired manufacturers' to build and market baby monitors with many of those same features.
VTech is a case in point. The company recently released a pair of HD Wi-Fi baby monitors. We got our hands on the VTech VM981 Wi-Fi HD Video Monitor and Camera ($199.95), an expandable system that can support up to nine VTech VM980 Wi-Fi Accessory HD Video Cameras ($75.95 each) as your family grows.
The crux of the VM981 system is a fixed-position camera that delivers 720p high-definition video. The tombstone-shaped body houses an adjustable lens you can manipulate manually for the best angle. Ten infrared LEDs ring the lens for night vision, allowing you to see your baby clearly with the nursery lights off. The whole unit is made of lightweight plastic that doesn't feel too durable. Since the camera will likely spend all its time in one spot—aimed at your baby's bed—that might not be much of an issue.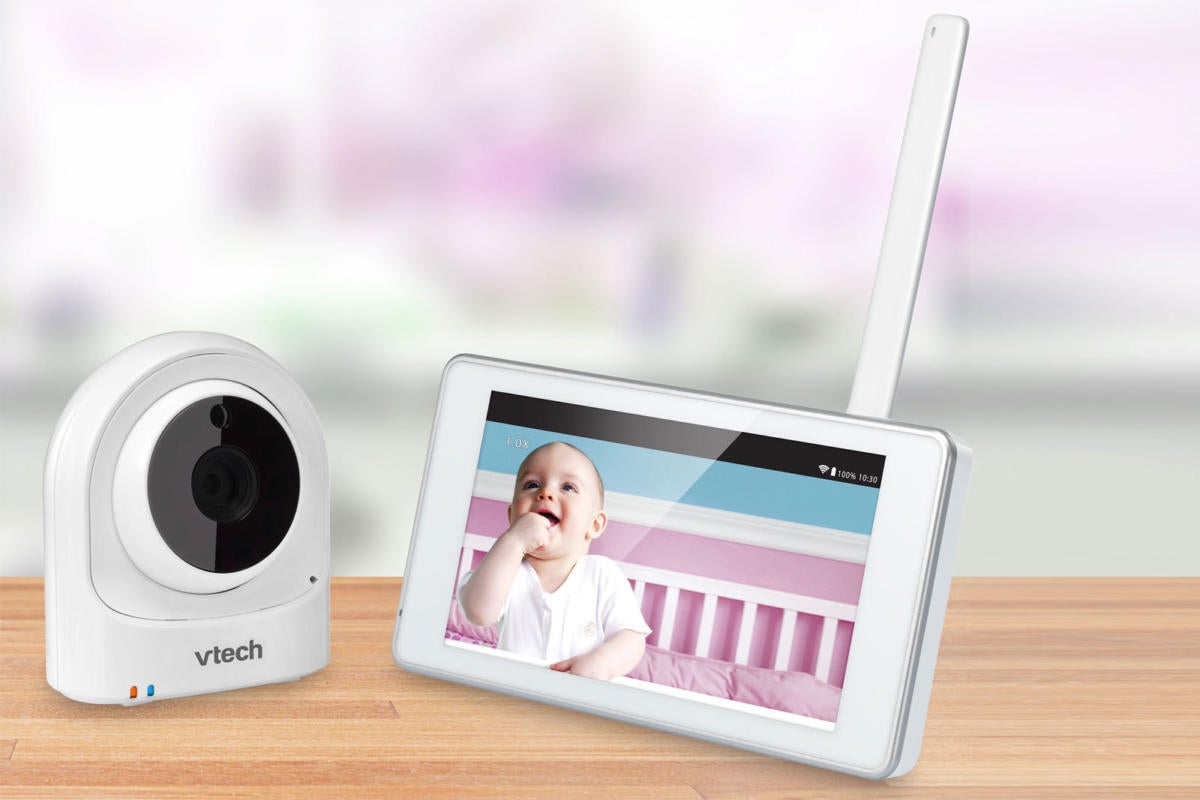 You view the camera's feed on a 5-inch HD touchscreen monitor called the "parent unit." It's fairly light and not much bigger than a smartphone, which makes it easy to tote around with you from room to room. But you can also prop it on a tabletop using an extendable stand on the back to monitor your child hands free while cooking or watching TV. The parent unit is designed for home use. The My VTech Baby App, available for iOS and Android (the latter version comes pre-loaded on the monitor), allows you to keep tabs on your baby while you're out and about.
In addition to watching streaming video of your child, you can take snapshots and record video of the camera's feed on demand. The monitor has 4GB of internal memory for storing these media, but it also has a microSD card slot for expanding storage capacity.
Setup and usage
Setting up the VM981 was remarkably easy. Turn on the parent unit—mine came out of the box fully charged—select your network, and enter your password to connect. Next, you select your camera model in the VTech Baby App and follow the on-screen instructions to pair the camera with the monitor and connect it to your network. You'll likely also need to download and install a software update on the monitor.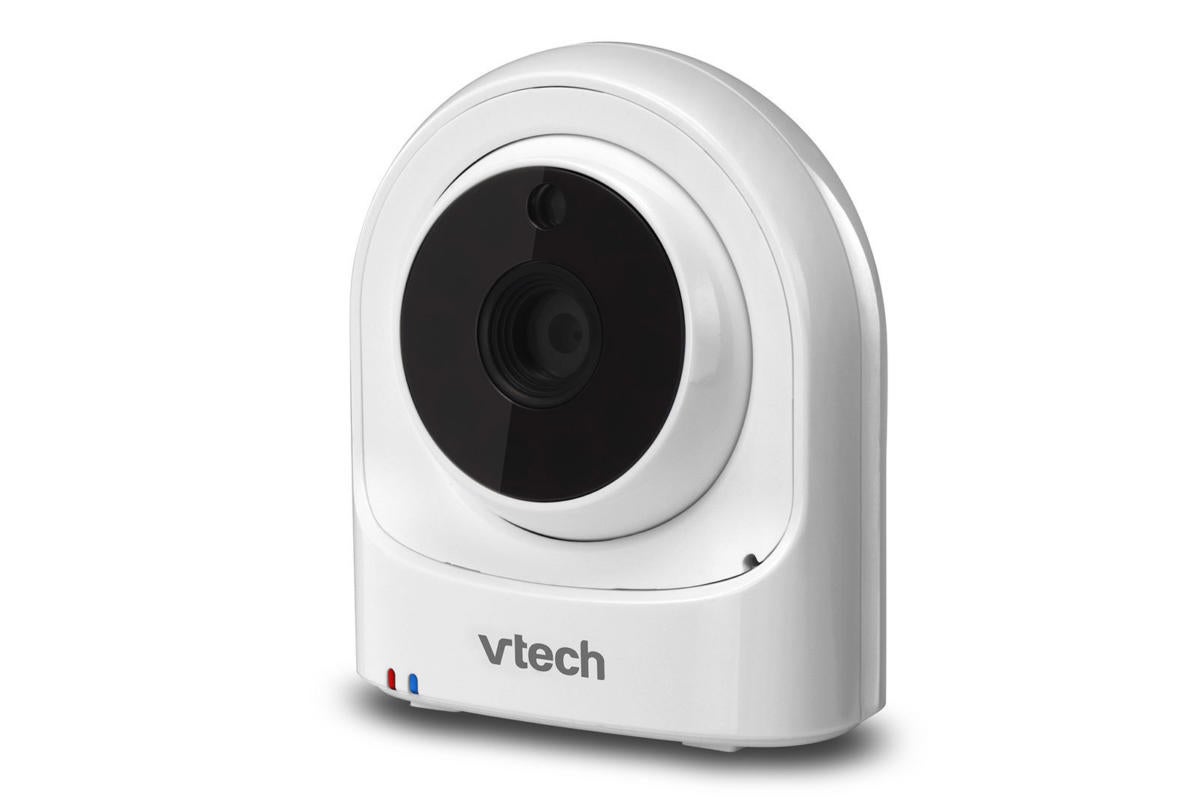 Once everything is connected, you'll see the camera preview displayed on the monitor. Actually, the camera displays two previews, but if you only have one camera online, the second one will be blank. Should you have more than two cameras—you can add up to nine—you would swipe left to scroll though each unit's preview.
Tapping the camera preview takes you its live feed. The VM981 delivers solid, but not spectacular, video quality. Details are clear, but colors appear washed out, like an old and faded photograph. The whole image had a peculiar purple color cast in my tests. None of this distorted details in the picture, but it's not the quality we expect from an HD camera. Night vision was better, with sharp details and good contrast.
The camera supports 10x digital zoom that you activate by pinching and spreading your fingers on the monitor touchscreen, as you would on any mobile device. Once you zoom in, you can pan around the image by swiping left and right or up and down to focus on specific areas of the room. The touchscreen is very responsive; the only significant issue I encountered was accidentally opening the pull-down notification window a few times when pinching from the top of the screen.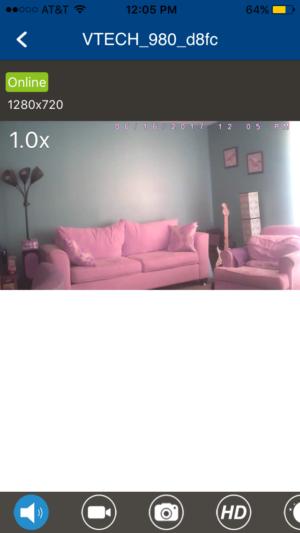 Audio was clear, with none of that constant and annoying hiss you get with conventional baby monitors. The parent unit begs for a built-in mic—and a speaker on the camera itself—so you can remotely speak to and soothe your baby when you hear them stirring. That way you don't need to enter the nursery and risk waking them. This is a fairly standard feature on the home security cameras from which the VM981 takes its cues, so its absence is a head-scratcher.
The My VTech Baby App offers several tools for operating the camera. At the bottom of the camera-feed screen is a toolbar with buttons for playing/muting streaming audio, recording video, and taking a snapshot of the feed. You can also toggle video quality between high, medium, and low and set night mode to activate automatically in low light or turn it on and off manually. This layout is mirrored on the mobile apps.
The feature nervous parents are likely to be most excited about is motion detection. As pediatricians recommend newborns sleep on their backs to reduce the risk of sudden infant death syndrome, every mom and dad knows the drill of tip-toeing into the nursery at regular intervals to check that the baby hasn't rolled onto his or her stomach.
The VM981 minimizes this burden by pushing a notification to the monitor or your mobile device when is senses movement. It works pretty accurately, too, and you can adjust the sensitivity of the motion detection in the app, choosing between low, medium, and high settings, to minimize false alerts triggered by other motion, such as someone walking past the nursery doorway or the breeze from an open window fluttering a curtain.
The camera currently does not automatically record video when motion is detected. That means that though you'll be alerted to motion in your child's room, you'll have no information about what caused it. Is he trying to climb out of his crib, or did the dog just walk in front of the camera? Or worse, is an intruder in the nursery? (Yes, these fears cross parents' minds.) The result is you'll have pop into the room to check on your child and risk waking them. That's the scenario a monitor like the VM981 would seem designed to minimize.
[Source"timesofindia"]