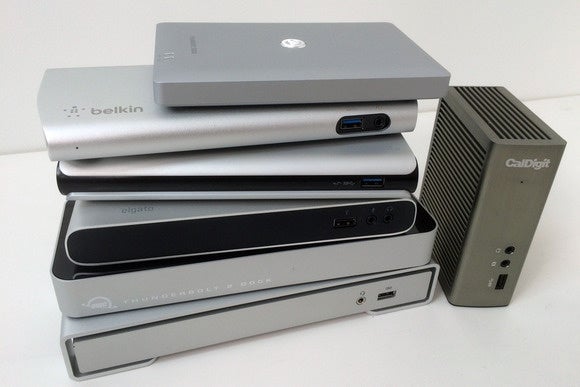 The major change since I last did a roundup of Thunderbolt docks is that the latest docks use Thunderbolt 2, which makes them aligned with Apple's Thunderbolt 2 implementation in its MacBook Pro and MacBook Air.
The market has also grown a little, with a few more offerings to consider. But essentially, the basic functionality of the docks is the same as before: You plug in your display, hard drives, printer, ethernet, headphones, USB devices, and whatever else into the dock, then you connect the dock to your laptop via a single Thunderbolt 2 connection. When you want to take your laptop, you only need to unplug a single cable. When you return to your desk, all you have to do is connect one cable.
In this roundup, I tested eight docks that all use Thunderbolt 2. Some of the docks are quite similar in design while others are vastly different. All of the docks require a power adapter. All of the manufacturers tout their dock's ability to support 4K monitors though this is a function of Thunderbolt 2 and not necessarily a dock-specific feature.
I wasn't able to boot from a Yosemite install USB flash drive plugged into the USB port of any of these docks, even though the drive appeared as a bootable drive in System Preferences. You'll need to plug the boot drive directly into a port on your Mac laptop.
All the docks tallied similar results when I tested USB 3 drive performance using the Aja System Test and a VisionTek USB Pocket SSD. All the docks were tested with gigabit ethernet, headphones, and an Apple Thunderbolt Display connected to each dock.
Quick reference chart: Thunderbolt 2 docks
One final thing before diving into the products. I tested the docks with a MacBook Air and MacBook Pro. A dock would be ideal for the new MacBook since it has the lone USB-C port, but there's currently no way to connect a MacBook to one of these docks—USB-C to Thunderbolt adapters don't exist. (Are they even feasible?) There's at least one MacBook dock in the works called the HydraDock, and there are probably more coming soon.
Top choices
CalDigit Thunderbolt Station 2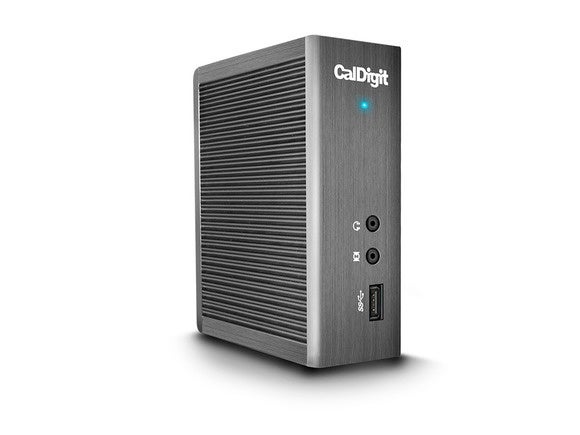 At $235 with a 1-meter Thunderbolt cable ($200 without), the CalDigitThunderbolt Station 2 (

) is a pretty good deal. CalDigit didn't go with a long, brushed aluminum box design the other docks sport. Instead, the Thunderbolt Station 2 uses a handsome vertical standing "Titanium Grey" aluminum box (CalDigit provides rubber feet to let you rest the dock on its side).

The CalDigit dock is one of four docks that I looked at that has eSATA; there is a pair of eSATA ports on the rear, along with two Thunderbolt 2 ports, two USB 3 ports, gigabit ethernet, and HDMI. The front has a USB 3 port, a microphone jack, and a headphone jack.

On the CalDigit website, you can download the CalDigit Thunderbolt Station Utility. This adds a menu bar item that allows you to eject any items that are connected to the dock and are on your Mac's desktop.
OWC Thunderbolt 2 Dock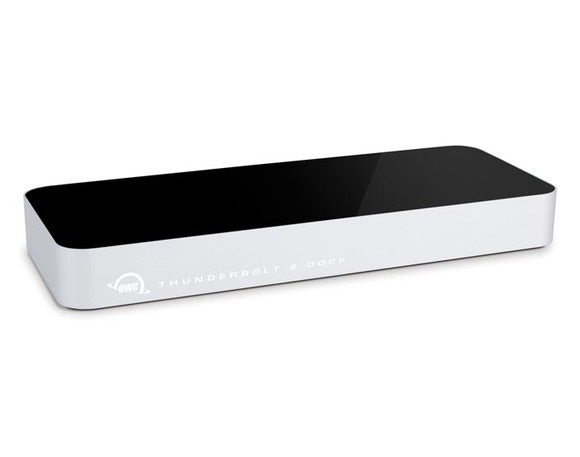 Compared to the other docks in this roundup, OWC offers a whole lot of dock for $229. With the Thunderbolt 2 Dock (

), you get five USB 3 ports, two on the side and three on the rear. It's one of three docks in this roundup with a FireWire 800 port, which is great if you have an older hard drive that's still a vital part of your setup. The dock also has the standard issue of ports: two Thunderbolt 2 ports, a gigabit Ethernet port, and an HDMI port.

Like the Elgato dock, OWC's dock has separate microphone and audio out ports. But unlike the Elgato dock, these two ports are on the rear, not the front.
The one knock against the OWC Thunderbolt 2 Dock is that it doesn't include a Thunderbolt cable. OWC does sell Thunderbolt cables in different colors (black, red, green, blue, white) and in different lengths (0.5 meter to 30 meters).
Top contenders

Elgato Thunderbolt 2 Dock
The $230 Thunderbolt 2 Dock (

) has a brushed aluminum case that matches your Apple laptop. The front has a USB 3 port, a mic jack, and an amplified headphone jack. The back has a gigabit Ethernet port, two USB 3 ports, two Thunderbolt 2 ports, and an HDMI connector. Elgato includes a 0.5-meter Thunderbolt cable. All of the USB ports provide enough power to charge any iOS devices.

Elgato's dock includes a software utility. Like the CalDigit utility, the Elgato Thunderbolt Dock Utility resides in your Mac's menu bar for one-click ejecting of any connected dock devices from the Desktop.
Sonnet Echo 15+ Thunderbolt 2 Dock
The Echo 15+ Thunderbolt 2 Dock (

) is very different from the docks in this roundup. The Echo 15+ houses a hard drive and your choice of a DVD burner, Blu-ray burner, or Blu-ray drive, in addition to ports for Thunderbolt 2, USB 3, eSATA, FireWire 800, gigabit Ethernet, and audio in/out.

Prices range from $469 with an empty storage bay (you provide your own drive) to $999 for an Echo 15+ with a pair of SSDs (1TB storage) and a Blu-ray burner. The Echo 15+ is also the only dock with a method of securing a Thunderbolt cable to the device—it's surprising that no other device does this.

For production environments, the Echo 15+ is a heavy-duty handy dock. Having an all-in-one box helps cut down on the desk clutter though the Echo 15+ itself is a big box. The device is sturdy enough for a display up to 34 inches, or even a Mac Pro or 27-inch iMac. Read the in-depth review.
StarTech Thunderbolt 2 4K docking station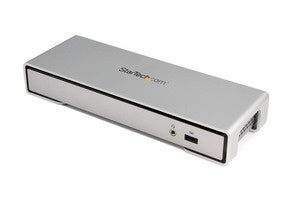 At $318, the Thunderbolt 2 4K docking station (

) is pricey. It's also the longest dock, measuring 9.2 inches, and its design hearkens back to the old aluminum Mac Pro tower.
The Thunderbolt 2 4K docking station is the only dock I looked at that has an S/PDIF connector on the rear. The rear also has three USB 3 ports, a microphone jack, one eSATA port, gigabit ethernet, HDMI, two Thunderbolt 2 ports, and a security lock slot. The front has a USB 3 port and headphone jack.

StarTech includes not one, not two, but three different power cords, one each for the U.S., U.K., and E.U. The company also includes a Thunderbolt cable.
Rest of the pack
Akitio Thunder2 Dock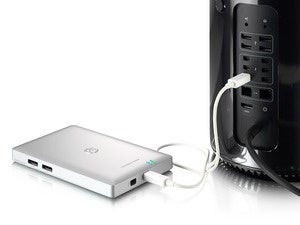 Most of the docks in this roundup resemble nicer-looking KVM switches, but the $280 Thunder2 Dock (

) takes a different approach: from a distance, the device looks like a portable hard drive. And instead of lining up the ports on the rear (with a few ports on the front for quick access), the Akitio dock has ports on three of its four sides. That means that instead of your cables being hidden from view (for the most part) in the rear, the cables are in plain sight. The Akitio's design could be more functional for you, especially if you are connecting and disconnecting devices frequently—but if you aren't, the Akitio design leads to a potentially messy cable layout.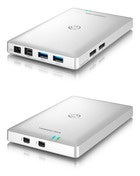 With two eSATA ports, a FireWire 800 port and two USB 3 ports (that can charge your iOS device), the Akitio Thunder2 Dock is geared for someone who needs flexibility with attaching storage devices to your Mac. The dock does have two Thunderbolt 2 connectors and you can connect a Thunderbolt or mini-DisplayPort display. There's no gigabit Ethernet, audio connectors, or HDMI. When you consider the $280 price (Thunderbolt cable included) and the ports, the Akitio dock fills a niche that's different than the other docks.
Apple Thunderbolt Display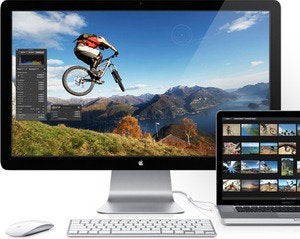 The $999 Thunderbolt Display can be used as a dock. The problem is that the product hasn't been updated since it was released in 2011, before USB 3 and Thunderbolt 2 were available on the Mac. It has USB 2.0 ports and it has the first-generation Thunderbolt implementation instead of Thunderbolt 2.

If you don't care about performance, the Thunderbolt Display will work well and you won't have another device taking up space on your desk. The display has three USB 2.0 ports, a FireWire 800 port, gigabit ethernet, and a security slot. There's also a built-in Thunderbolt cable that you plug into your laptop, as well as a Thunderbolt port.
If you do care about performance, then you should know that in the Aja System Test, the Thunderbolt Display posted USB drive read speeds of 25.2 MBps and write speeds of 9.9 MBps. Slow when compared to USB 3.
Belkin Thunderbolt 2 Express Dock HD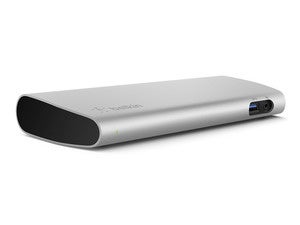 The $300 Thunderbolt 2 Express Dock HD (

) is almost identical in design to its predecessor, theThunderbolt Express Dock. Besides upgrading to Thunderbolt 2, Belkin changed the port configuration. This dock has a front USB 3 port and a headset jack, a design change from before. The back of the dock has two USB 3 ports (all of the USB 3 ports can charge a device), gigabit Ethernet, a headphone jack, HDMI, and two Thunderbolt 2 ports.

If you have an odd-shaped USB flash drive, you might have problems plugging it into the front USB port. The port itself is recessed a bit from the outer aluminum casing, which can get in the way if your USB drive has a built-in connector and a wide case.
While the Belkin dock is a nice, solid product, it's near the top of the price range in this roundup, and it doesn't provide anything unique, like a software utility or different ports.
Kanex Thunderbolt 2 Express Dock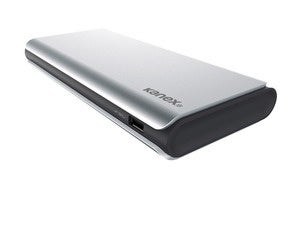 The $150 Thunderbolt 2 Express Dock (

) also has a brushed aluminum case. It's almost the same size as the Elgato dock.
On the front it has a USB 3 port that can charge your devices while the back has two unpowered USB 3 ports, a headset port, gigabit ethernet, two Thunderbolt 2 ports, and an HDMI connector. Kanex includes a 1-meter Thunderbolt cable.

While this is a solid, quality dock, it's similar in design to the Elgato dock. To me, the Elgato's separate mic and line out jacks on the front are preferable to the single rear headset jack on the Kanex. The Kanex dock does get the nod for the most affordable dock in this roundup.
Coming soon
Henge Docks' Horizontal Docking Station for MacBook Pro and MacBook Air has been on our radar for a while and it looks like it's available to order.
Previous roundup: Thunderbolt docks
Bottom line
The CalDigit Thunderbolt Station 2 and OWC Thunderbolt 2 Dock stand out in this roundup, but all of the docks are solid choices. The $235 CalDigit dock is a nice combination of price and features and I personally like its design. The OWC dock has a lot of ports, but you have to buy a Thunderbolt cable, which pushes it past its $229 price tag.
Editor's note: This article was updated on 11/11/15 with updated prices and a review of the Sonnet Echo 15+ Thunderbolt 2 Dock.

[source :-macworld]