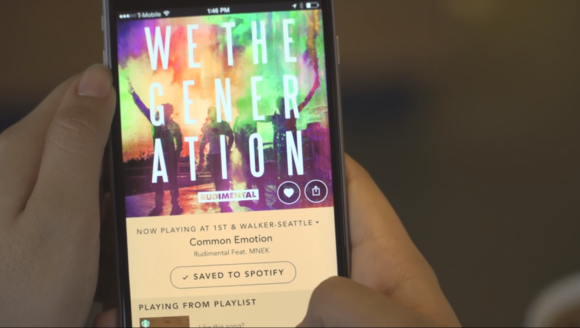 Spotify users looking for the latest songs by Drake, Katy Perry, and Frank Ocean may have a harder time finding them—all because of those artists' ties to rival Apple Music.
Spotify is making it difficult for its users to find new music from artists who have signed on to Apple Music exclusives, according to Bloomberg. Spotify has told record labels that once new songs become available on its platform following the Apple exclusivity window, they will be less likely to be added to featured playlists. Some artists with Apple deals are also accusing Spotify of burying them in search results, but Spotify has denied the claim, saying it does not alter search rankings.
According to Bloomberg, Spotify has relied on this strategy of retaliation for about a year. And it's not only artists with ties to Apple Music who are getting punished on Spotify: Bloomberg notes that Spotify is also targeting artists who premiere new music exclusively on Tidal, the Jay Z-owned streaming service.
in 2016 alone, Drake, Katy Perry, and Frank Ocean released new music exclusively on Apple Music, while Rihanna, Kanye West, and Beyoncé introduced new albums exclusively on Tidal.
Why this matters: While Apple Music and Tidal have relied on paying for splashy exclusives to gain new users, Spotify had opted against such strategy, claiming that it's bad for artists and the music industry as a whole. However, it's unclear whether Spotify's retaliatory practices will be seen as any more favorable.
While Drake and Katy Perry may survive from not being featured in a Spotify playlist, emerging artists could be more drastically affected by Spotify's tactics. And it's not just highly-anticipated albums that are getting shafted by Spotify—Bloomberg notes that one such artist was forced to cancel premiering a new song on Zane Lowe's Beats 1 radio show because Spotify threatened lack of promotional support for the track.
[source :-macworld]