The ability to run the Android OS as a fully functional desktop on PCs took a giant leap forward this month with a release that merges the Android-x86 Project with Jide Technology's Remix OSdistribution.
Android-x86 Project developer Chih-Wei Huang late last month announced on the project's website a partnership with Jide. He started the Android-x86 Project in 2009 and quickly realized that it had the potential to spread "the use of Android to as many of the common x86 platforms in the world as possible."
Jide was pursing similar efforts with its Remix OS software. The partnership will help both projects achieve the goal of putting a complete Android experience on Windows and Mac hardware, he said.
"I value this type of partnership, one in which we can push the boundaries of what is possible for the future of computing and fill a vital void in Android so that you can use it to create content as easily as you consume content," Huang said.
The Android-x86 Project will not be absorbed fully by Jide's Remix OS. Rather, it will remain an independent open source project, he said.
Noticeable Improvement
I last looked at the Android-x86 Project with its r3 release last year. It showed signs of refinement over earlier releases, but it was obviously still a work in progress.
I was working separately in recent weeks with the then-current release of Remix OS but met with numerous frustrations over incompatibility with several of my test computers. Remix OS was awkward to install. That was understandable as Jide specializes in putting the Remix OS on its own tailored hardware.
The combined release of the Remix OS beta 2.0 solved some of those problems. For the purposes of this review, the focus is strictly on the beta 2 released under Jide's label.
I liked the early efforts of Huang's Android-x86 platform on PCs. I like even better the performance from Jide's Remix OS beta 2. It is far more stable and much more reliable to use.
Better Installation
The zipped download files include a Windows-based installer and the OS's ISO file. The installation directions target users of Windows 7 through Windows 10. Linux and Mac users have a tougher time installing Remix OS. To gain wider adoption, Jide should offer directions and an installer for a wider ranger of hardware platforms to make the installation more user friendly.
The installation routine from Windows at this point is necessary if you want to create a dual boot on a Windows PC. The installer gives you the option of putting Remix OS on the hard drive or on a self-booting USB drive, but installing without the Windows installer is a frustrating experience.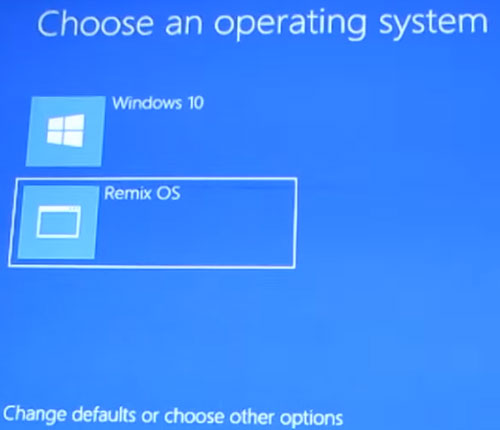 Remix OS installs as a dual-boot or runs as a standalone installation on hard drive or DVD/USB session.
The Windows installation has one big glitch: It creates a new hard drive partition. That's fine if you only have Windows set up on the computer. I was not able to get the installer to let me select an existing partition on several of my dual-boot computers that have numerous operating systems on them.
That means I could not manually set up the hard drive with a new partition to add to the existing dual-boot options. The Windows-based installer creates a dual-boot file. Once that processes finished, I had to manually edit the file to get me access back to the other operating systems installed.
I used a Linux installation to burn the unzipped ISO file onto a DVD. I recommend starting with either a DVD or a USB burn from the ISO. That lets you create a live session environment to test your hardware's compatibility.
Test First
Remix OS does not play nicely with all hardware species. It is available in both 64-bit and 32-bit versions. The 64-bit option comes in UEFI and legacy BIOS versions.
Remix OS did not run on several of my test desktop and laptop computers, which included a wide range of memory and processor specs.
Be sure to confirm that everything works fine on your hardware before attempting a hard drive installation. If something goes wrong, however, you can easily delete the folders the installer creates on the Windows directory to do a thorough uninstall even it the installation fails to let you boot into Remix OS.
Keep two things in mind when preparing to install Remix OS: One, it is finicky on lots of hardware. Two, the first run from either the DVD or the USB can take 20 minutes or more to fully load. I thought the process stalled or locked up the computer when the Remix OS logo displayed on the screen and stayed there.
Every few minutes, the DVD would flutter. Almost no hard-drive activity was indicated throughout the process. One aging laptop took more than 20 minutes to get to the Android home screen. On a very new high-end desktop computer, I waited some 35 minutes to complete the booting and loading process.
Look and Feel
Remix OS has a much more appealing desktop user experience than other Android-on-PCs provide. Rather than the Android screen appearance you see on tablets and smartphones, Remix OS has a more traditional Linux — or Windows 7 — look.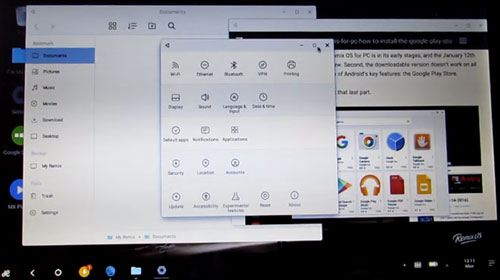 Remix OS beta 2.0 has a more traditional Linux or Windows 7 look.
A panel sits across the bottom of the screen. A start button that opens a full application menu is at the far left. Other app launchers fall in line on the left side of the panel. The right side of the panel holds the system tray and notifications.
Just like a Windows, Linux or Mac screen, you can run applications full size or drag the corners to adjust the size and shape of a window, so you can use multiple windows on a large screen with ease. Virtual desktops, however, are not available.
Remix OS does a nice job of transforming the top-down menus of Android to a traditional pop-up menu and slide-out side panel view for notifications and settings. Much to my pleasure, I was able to use all of the touch-screen functionality on the laptop. That puts this Android beta release on equal footing with the Linux Mint installation on the hard drive.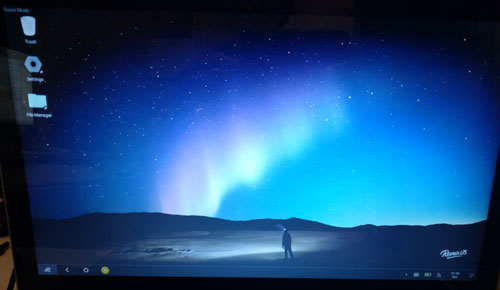 Jide's Beta 2.0 release of Remix OS provides a very usable desktop interface that combines Android and a PC look and feel.
Android Antics
Remix OS runs Android version 5.1.1. Unlike earlier releases from Jide and other Android-on-PC efforts, the beta version will have an over-the-air upgrade provided as Jide develops newer versions.
Jide's beta release lacks the Google Play Store. The developers do not have Google's permission to include their software, but you can add it on your ownby side-loading Google Mobile Services.
The process takes a few steps. If you have side-loaded apk files onto your Android tablet or smartphone, the process on your PC is very similar.
Bottom Line
Remix OS is a big step in the right direction. More than with any other Android-to-PC release I have tested, this beta version provides the most complete Android experience on a desktop PC.
You get the best of both computing worlds. Provided your hardware is compatible, you can run a very modern Android version on both legacy and more modern gear.
If you do not require persistent memory, you can use it as a pocket OS and load it from a USB or DVD without doing a hard-drive installation. You have the added advantage of a more satisfying user experience on a standard computer screen.
Want to Suggest a Review?
Is there a Linux software application or distro you'd like to suggest for review? Something you love or would like to get to know?
Please email your ideas to me, and I'll consider them for a future Linux Picks and Pans column.

[SOURCE :-technewsworld]