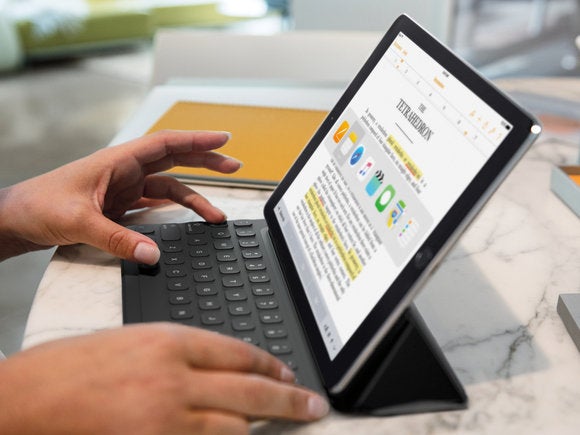 The iPad Pro isn't going to be everyone's be-all-end-all, do-everthing device—no single thing is, not even one from Apple. But doing your best work is all about finding the exact mix of tools and technology that's right for you, and the iPad Pro is making its presence felt in a wide variety of careers. This week, Glenn interviews three professionals who use the 12.9-inch iPad Pro either as their primary machine, or at least to do a lot of the work they used to do on a desktop or portable Mac.
They are: Chip Suddereth, a school administrator by day and podcaster by night. He's the host of Two-minute Time Lord and the cohost of Audio Guide to Babylon 5. Tom Bridge is an IT and system administrator, and a principal atTechnolutionary. Finally, Jeff Zugale is a storyboard artist and spaceship illustrator, which is the coolest job description I've heard all day.
Show notes
On its 40th anniversary, 40 things we love about Apple by the Macworld staff and friends
iPhone SE review: It's a pocket-size powerhouse by Susie Ochs
9.7-inch iPad Pro review: Hits the sweet spot between size and price by Susie Ochs
9.7-inch iPad Pro review: Hits the sweet spot between size and price by Cade Metz, for Wired
Burr's cipher, sir: The 1807 treason case that featured in the Apple/FBI conflict by Glenn Fleishman
After cracking Apple's iPhone, FBI will help US agencies unlock encrypted devices by John Ribeiro
New iOS exploit works only on managed devices by Glenn Fleishman
Podcast 501A*: If you got 'em, quantum featuring Glenn Fleishman, Susie Ochs, and a cast of thousands, with radio play by David J. Loehr
Talk to us!
Want to hear your voice on the Macworld Podcast? We're experimenting with audio feedback. You can call 415-712-CAST and leave us a voicemail. Or just record your question or comment with QuickTime Player and email the audio [email protected].
If you leave us an audio message, tell us your name (as you'd like it repeated on the air—first, last, initials, whatever you're comfortable with), and where you're from. We look forward to hearing from you!
Subscribe
You can subscribe to the Macworld Podcast—or leave us a review!—right here in iTunes. Or you can point your favorite podcast-savvy RSS reader at:http://feeds.soundcloud.com/users/58576458-macworld/tracks
To find previous episodes, visit Macworld's podcast page or our home onSoundcloud.
[source :-macworld]