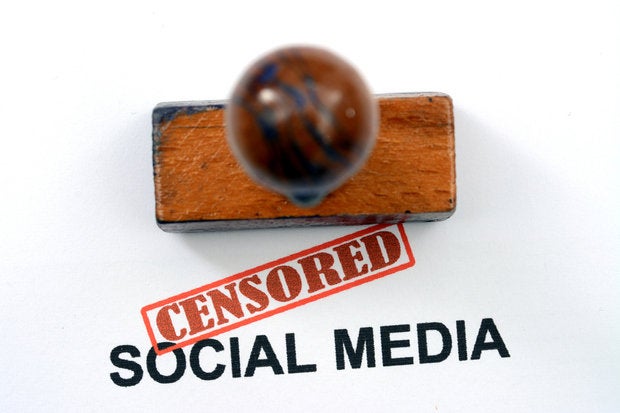 Whether it's Facebook, Instagram, Twitter, Snapchat or Reddit, chances are good that your employees are spending some time on at least one of these social networks during work hours. But before you run to IT and install company-wide web filters, there are a few things to consider about your employee's social media habits.
"Social media is more accessible than ever — and it isn't going anywhere anytime soon — so it's a great time for employers to get on board. If a company has a clear policy around social media usage at work and communicates those guidelines effectively, there should not be a need to block the sites, as employees will remain productive and engaged," says Tisha Danehl, vice president of Ajilon Professional Staffing.
Social media certainly can have negative effects on the workplace: Pew Researchsurveyed over 2,000 American adults on their social media habits at work and found that 56 percent of respondents said they felt social media distracted from the work they needed to do. However, if handled correctly, social media can have its place at work, without disrupting day to day business and even boosting engagement.
[ Related story: How to craft an effective social media policy ]
Blurred professionalism
Social media plays a part in your office culture. Thanks to sites like Facebook, the line between friendship and professionalism has blurred, according to Danehl. A study onsocial media in the workplace from Ajilon found that 51 percent of people are connected with their boss on some social media platform, which can point to a breakdown between work and personal lives. She notes that it can also lead to difficult situations if an employee gets upset about what others are posting, whether it's about the current election or just an opinion they disagree with.
And work-related negativity on social media is not uncommon.The Ajilon study found that 24 percent of respondents said that they had written a negative post about work on social media, 5 percent owned up to complaining about their boss and 5 percent also said they had complained about a client or customer. Danehl points out that situations like these can quickly become a PR nightmare or cause internal confrontations when an employee vents about work on social media.
Deborah Cohn, associate professor and director of professional enrichment at the NYIT School of Management says that in her research she's found the culture of social media can make it difficult for those who want to maintain professionalism at work and prefer some privacy.
[ Related story: How social media is shaping the 2016 presidential election ]
"It can stressful for people who want to keep their home life and work life separate. For example, if you tweet about your day at the beach when you called in sick, and then you get caught, and get fired. Or you post pictures of your son's wedding and your co-workers wonder why they weren't invited," she says.
These workers might feel pressured by others to accept friend requests and to connect on platforms they'd rather reserve for their life outside of work.
Social media guidelines
If you want to avoid a loss of professionalism with social media in your business, you need to create guidelines, says Danehl. Social media policies are considered a part of your company culture, which means it needs to be part of training and onboarding; don't assume they know the protocol.
And as an employee — if you're in the same boat as the 16 percent in the Ajilon study who said they weren't aware of their company's stance on social media — ask someone. It's better to know what to expect going in, than to figure it out along the way and potentially make a social media faux pas.
Having a guideline in place can also protect your company if a legal issue pops up, says Paul Menes, Co-Head of Entertainment and Digital Media at ADLI Law Group P.C. A good policy will clearly outline what is considered appropriate, and what isn't appropriate, as well as the consequences of not following the policy; and make sure to have each employee read and sign the document, he says.
And the legalities around social media restrictions at work go both ways — companies need to be cognizant of what they can legally block. "They can be in violation of federal and-or state laws by doing so, especially if the business allows or encourages employees to use their personal devices for business purposes," says Menes.
Social media regulations and laws can vary from state to state, as this article on Law360 from Arthur V. Lambert, partner at FisherPhillips, points out. For instance, if you look for a candidate's profiles during the hiring process you could be open to discrimination suits, or you might find coworkers connecting on social media leads to unwanted issues with harassment. But the article points out that having the right language in your policy will help protect the company — and employees — in the event that something goes wrong.
Breaks at work are encouraged — get up for a walk around the office, stretch your legs and grab a cup of coffee. Social media can be viewed in the same light; Pew Research found that 40 percent of employees at companies without restrictions had used social media to take a break from work.
The study also found that workers were equally likely to cite personal reasons for using social media as they were to cite work-related reasons. Of those that said they did use social media for work-related purposes, 71 percent said they liked to use it to stay connected with colleagues, 56 said they often reached out to experts in their field and 46 percent said they used it to find information they needed to do their job. Ultimately, 56 percent of this group said they felt that social media helped their job performance, while only 22 felt it was hurting their performance.
The data suggests that, while social media can cause some to be unproductive, if you can create a culture that encourages social media use for work-related purposes — such as networking, creating brand awareness or finding and sharing innovative industry related information, then you can foster engagement around the appeal of social media.
"Moreover, in today's candidate-driven job market, companies need to stay competitive in order to attract and retain top talent. Shielding employees from something that so many other companies are not only embracing, but using to their advantage, can result in low morale and eye-rolling," says Danehl.
[Source:-CIO]