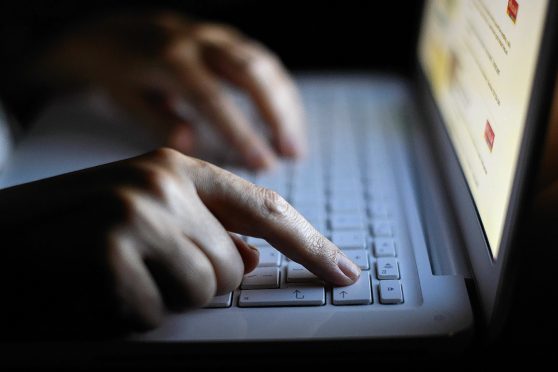 A man is to stand trial accused of setting up a web-design firm as a front for a million pound fraud, drug dealing and international money laundering operation.
Dale Pearson is said to have scammed a £250,000 mortgage before "concealing, disguising, converting and transferring" cash and bitcoins amounting to £789,046.64 over the course of six years.
He is said to have used the fraudulent mortgage to buy a six-bedroom luxury property on the outskirts of Dundee.
Prosecutors say he moved vast sums of cash around various bank accounts and converted £25,900.91 into bitcoin – an online cryptocurrency that spiked in value last year.
Pearson is also alleged to have transferred £57,015.71 out of the country to banks and businesses in Pakistan, China, Dubai and Hong Kong as part of the alleged scheme.
An eight-page, 12 charge indictment laid out the string of charges levelled against Pearson – all of which are said to be "aggravated by a connection with serious organised crime".
It is alleged that Pearson was concerned in the supply of ketamine, diazepam, cocaine and cannabis between June 2015 and June 2017 at addresses in Coventry, Dundee and Edinburgh.
He is further accused of possessing amphetamine at an address in Drumlanrig Drive, Dundee, on August 26 2016 and possessing a "cathinone derivative" class B drug on the same date.
Pearson is also alleged to have attempted to produce cannabis at addresses in Dundee between July 18, 2016 and June 27, 2017 and supplied ethylone between February 7 and February 15, 2016.
A further drugs charge alleges he supplied alprazolam on August 17, 2017 while on bail.
Detailing the allegedly illicit financial transactions the indictment alleges that between September 1 2014 and August 15 2016 at various addresses in Dundee Pearson "formed a fraudulent scheme" to obtain a £251,294 mortgage from Halifax Building Society.
That is said to have been used to fund the purchase of a six bedroom property in Dundee's Strathmartine Road.
In a complex scheme Pearson is alleged to have set up a business and website in the name of Pearson Web Design and registered for VAT before instructing accounts to prepare annual returns on its behalf.
He is also alleged to have provided invoices to the accountants that "purported to be for work undertaken by Pearson Web Design".
Those accounts were then used to provide proof of income and deposit to push the purchase through.
But prosecutors say he "well knew" that "Pearson Web Design did not undertake the business of web design", that no VAT returns were ever filed, the invoices did not relate to "legitimate work" and that the £75,000 deposit "was not from a legitimate source".
An eleventh charge alleges Pearson "did conceal, disguise, convert and transfer criminal property" – namely "sums of money and bitcoins" amounting to £789,046.64 between September 1 2011 and August 31 2017.
The charge states that he set up the web design firm "as a front to explain income" and had instructed his accountants to prepare self assessment returns claiming he had earned up to £99,566 in one year through the allegedly bogus business.
He is further alleged to have deposited huge sums of supposedly dirty money into various bank accounts and used £75,000 of "criminal property" to pay the deposit on the Strathmartine Road house and £12,836.88 to pay the mortgage on it.
A final charge alleges that he "removed criminal property" from the UK amounting to £57,015.71 by transferring £9,422.81 to Pakistan, £46,127.51 to China, £1,010 to Dubai and £455.39 to Hong Kong between January 12, 2011 and August 6, 2014.
Pearson, 26, of Strathmartine Road, denies a total of 12 charges – nine under the Misuse of Drugs Act, one of fraud and two under the Proceeds of Crime Act.
Sheriff Alastair Carmichael continued the case to a further pre-trial hearing in July for the defence to instruct a forensic accountant to assess evidence in the case.
["source=pressandjournal]