With the presidential election 17 days away, Donald Trump and Hillary Clintonboth focused on other targets on Saturday.
Trump used what was billed as a major policy address to threaten lawsuits against women who have accused him of sexual misconduct, hours before a new accuser came forward. Clinton, ahead in national polls by around six points, shifted her focus to the Senate and the House.
Speaking in Pittsburgh, Clinton turned her focus on to the incumbent Republican Pennsylvania senator Pat Toomey, who faces a tough re-election fight against Democrat Katie McGinty. Clinton boosted the challenger while criticizing Toomey, who has yet to say if he will vote for Trump in November.
Later, Clinton told reporters: "As we're traveling in these last 17 days, we're going to be emphasizing the importance of electing Democrats down the ballot."
In Gettysburg, a stone's throw from the site of the bloodiest battle in American history, Trump showed new venom as he attacked the women who have accused him of groping and inappropriate sexual advances.
"Every woman lied when they came forward to hurt my campaign, total fabrication," Trump said of the 10 women who had then come forward to accuse him of sexual misconduct, hours before an 11th, Jessica Drake, spoke at a press conference in Los Angeles.
"The events never happened," Trump added. "All of these liars will be sued after the election is over."
Speaking to a crowd who had been invited to hear a major policy speech, he added: "It was probably the [Democratic National Committee] and the Clinton campaign that put forward these liars with these fabricated stories."
Later, speaking to reporters on her campaign plane, with running mate Tim Kaine at her side, Clinton said: "That is just not accurate."
She added: "I saw where our opponent Donald Trump went to Gettysburg, one of the most extraordinary places in American history, and basically said if he's president he'll spend his time suing women who have made charges against him based on his behavior.
"Tim and I are going to keep talking about what we want to do if we're given the great honor of serving as president and vice-president."
The accusations against Trump have been made after the release earlier this month of a 2005 recording of him bragging about grabbing women by the genitalia and trying to "fuck" a married woman.
Trump subsequently apologized and, when questioned by moderator Anderson Cooper in the second presidential debate, denied that he had never actually engaged in such behavior. Women have since come forward to challenge that claim.
Drake, a 42-year-old porn star and sex educator, said on Saturday that Trump hugged her and kissed on the lips without permission at a golf tournament in Lake Tahoe "10 years ago". She also said Trump offered her $10,000 to return to his hotel room alone.
Drake appeared at a press conference with the lawyer Gloria Allred, who released to the press a picture of Drake with Trump at the golf event.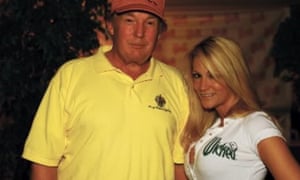 In an unattributed statement, the Trump campaign said: "This story is totally false and ridiculous. The picture is one of thousands taken out of respect for people asking to have their picture taken with Mr Trump.
"Mr Trump does not know this person, does not remember this person and would have no interest in ever knowing her."
In Gettysburg, Trump also claimed the media fabricated stories to make him "look bad", in particular, never showing or talking "about the massive crowd size" at his rallies.
He returned to other familiar topics, claiming without evidence the existence of massive voter fraud and attacking Clinton. At a rally in Cleveland on Saturday evening, he said his opponent was guilty of "opening the door to unlimited drugs pouring into your community".
Trump eventually did use his speech in Gettysburg to attempt to put his policy proposals in new focus, with what his campaign had billed as his "Contract for the American Voter".
He reiterated policies such as cutting taxes, increasing military spending, implementing ethics reform in Washington and building a wall on the Mexican border.
The setting for the speech – close to the battlefield where in 1863 Abraham Lincoln delivered the Gettysburg Address – was meant to be symbolic. Trump, campaign sources said, believes the country to be almost divided as it was during the civil war. That conflict lasted for more than four years. More than 600,000 Americans died.
[Source:-The Guardian]