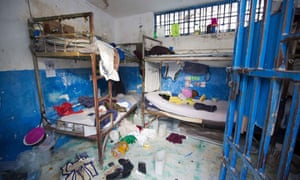 More than 100 mostly barefoot inmates overpowered guards on Saturday and escaped from a lockup in central Haiti, officials said.
Judge Henry Claude Louis-Jean said the prison break occurred in Arcahaie, a coastal town about 50 km north of Haiti's capital, Port-au-Prince. One guard was reported killed and others were injured.
The escapees stole an unknown number of weapons and some exchanged gunfire with police during the chaotic breakout.
The inmates attacked after they were released from a crammed holding pen to bathe, according to provincial authorities.
Haitian prisons are notoriously overcrowded and many inmates spend years in pre-trial detention. It wasn't immediately clear how many of the escaped inmates in Arcahaie were convicted of serious crimes and how many were awaiting trial.
Haiti's minister of justice, Camille Edouard Junior, said one prisoner died after falling off a wall and hitting his head during the escape.
"One policeman was killed killing the incident," Edouard Junior told Reuters. "Three prisoner were wounded, including one who died as a consequence of his wounds."
Police asked jittery residents of the coastal area to follow authorities' instructions as a manhunt intensified. It wasn't clear if any of the inmates had been recaptured by Saturday evening.
The US embassy advised all American citizens to avoid the area due to the escape.
The prison break comes just weeks after Haiti was devastated by Hurricane Matthew which left hundreds dead and thousands homeless.
[Source:-The Guardian]