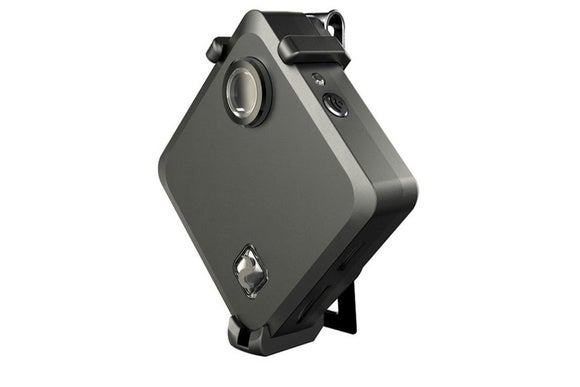 Remember Google Glass? Once hailed as the future of wearables, the device soon found itself under scrutiny from critics and a paranoid public alike who feared body-mounted cameras would be an unwelcome invasion of privacy. (Imagine that!)
Although that grand experiment wrapped up last year, manufacturers continue dabbling in wearable cameras. But here's the rub: With such a high-quality camera on the iPhone in your pocket, is a dedicated device really necessary?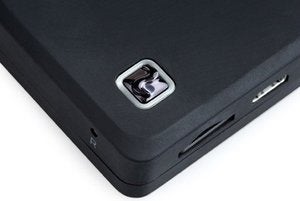 The latest attempt comes courtesy of Drift Innovation, a company best known for making affordable Ghostand Stealth action cams. While the concept of a wearable camera for everyday life may sound intriguing, the hardware winds up being every bit as awkward and intrusive as Google Glass.
Life, camera, action!
Drift Compass ($130) is a well-constructed, diminutive black 43mm square that's only 13.8mm thick and weighs just over an ounce without accessories. On the front is a small f/2.2 lens which protrudes about two millimeters (twice that of current iPhone 6s models), along with a dual-purpose power/mode button and LED status light.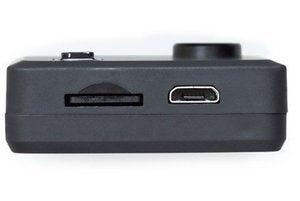 Around the sides are a built-in microphone, Wi-Fi button with status light, micro-USB port for recharging the 750mAh sealed battery, and a micro-SD card slot for up to 32GB of storage (I tried a 64GB card, but it didn't work). The package includes a mounting clip for placing the camera on a table or sliding onto a shirt pocket, micro-USB cable, and lanyard for hanging the device from your neck. (Drift also offers a $40 Compass Mount Pack that includes a handy skin with magnetic back, extra clip, tripod adapter, and 3M VHB mount in a carrying case.)
Compass is capable of recording H.264 720p or 1080p HD video at 25 or 30 frames per second (also 50 and 60 fps in 720p), or snapping photos in 5-, 8-, or 12-megapixel resolution; time-lapse options are also available for both modes. The quality is decent, but colors are muted even in well-lit scenes; there's also a fair amount of noticeable compression artifacts and noise with video.
Image quality: Samples from the Drift Compass
As small and unassuming as Compass is, the design winds up working against the device. The lens is situated in the corner, so the camera has to be held at an angle with the mode button down to avoid a tilted image. It's counterintuitive, and certainly makes it harder than it should be to properly line up a shot, especially when the camera is swinging freely from the lanyard.
Drift Life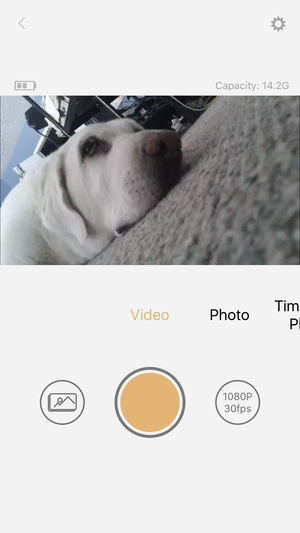 Controlling the Compass was likewise an exercise in frustration. The LED changes color when switching between modes—green for video, yellow for photos, purple for time-lapse—and blinks while shooting, but it's hard to see in direct sunlight. To start or stop capture, you double-tap a finger on the percussion inductive sensor located between the camera lens and mode button.
Unfortunately, this method wasn't consistently reliable and worse yet, there's no audible feedback when it actually does work. If you take a lot of selfies, it becomes even more frustrating, because the Compass failed to recognize the double-tap of my thumb every single time.
You can adjust the tap sensitivity using Drift Life, a free iOS or Android app that offers complete control over the Compass including shutter start/stop, and also acts as a viewfinder so you can see what's being shot. The problem is, this requires logging onto the device's onboard Wi-Fi, so there's a good deal of fumbling around to get set up, at which point you'd be better off just using the iPhone camera to begin with.
Drift Life can also be used to control livestreaming from the Compass, in which case the camera uses an available Wi-Fi or cellular connection from the connected iPhone; the quality and framerate was quite poor, and it's much easier to initiate a Facebook Live session anyway.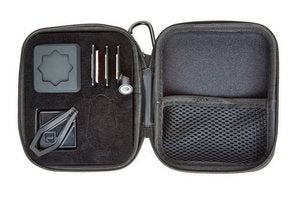 Battery life was respectable; about two hours of 1080p HD video recording at 30fps, four hours for photos, and roughly 12 hours in time-lapse mode when set to one-minute intervals.
Bottom line
Drift Compass is much better in concept than execution. Ultimately it's just easier to pull the iPhone out of your pocket rather than fumble around trying to pair it with what winds up being a lower-quality, less-powerful camera.
[source :-macworld]