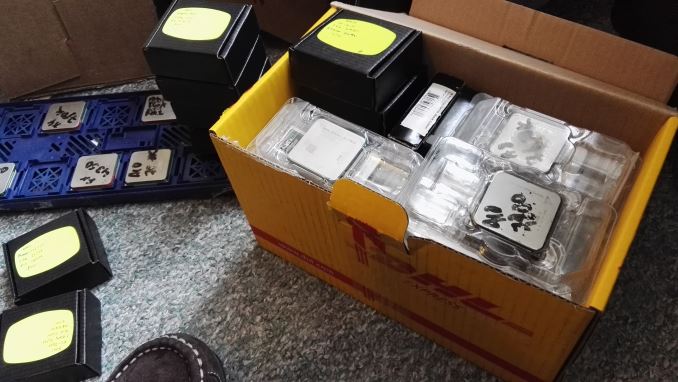 When building a custom PC, especially on the consumer side, the processor is typically second or third down the list of priorities, behind graphics, storage or specific motherboard features depending on the use case. A lot of choosing a processor starts with the budget, if there is a preference for one brand or the other, or if the performance is similar enough that the money saved on a cheaper model can be spent elsewhere. By contrast, when it comes to workstations or enterprise situations, it helps to have an accurate profile of the intended workflow in order to choose which platform is needed, how much memory or how many expansion cards will be used, and if the software can prioritize cores over frequency or vice versa.
In our CPU Guide for Q1 2016, we'll consider certain environments and budgets and give you our pick of some of the best processors available, supplying data from our Benchmark Database where possible.
If All You Need is Single Thread Performance:
Intel Pentium G3258 with an Overclock ($72 MSRP)
Some environments are single threaded by nature, such as single single-uses or basic home systems for email, writing reports or accessing the web. Even video streaming performance can benefit from single threaded speed in certain situations, so for this segment we're going with the Pentium G3258. This is Intel's overclockable dual core processor without hyperthreading, and comes out of the box at 3.2 GHz for only $72.In our review, with a good air cooler and some patience, we were able to extract 4.7 GHz stable with only a small increase in voltage, or 4.4 GHz was a nice point for power/voltage.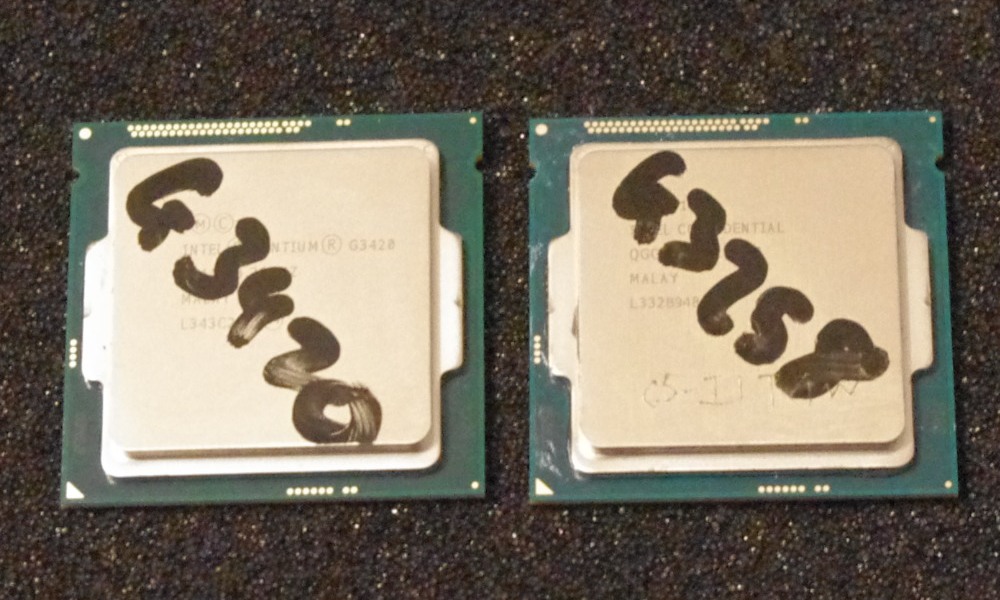 This makes it as fast as the Intel i7-4790K, Intel's highest frequency consumer processor, in single threaded performance while costing ~$230 less when you also buy a reasonable cooler. Most motherboards will come with automatic overclock settings as well, making the job easier. On gaming, even when overclocked, the G3258 can fall behind on triple-A titles when equipped with a strong graphics card, which is something to note. The G3258 uses the Haswell platform and chipset, the 9-series (Z97), so there are a small number of USB 3.1 motherboards but full M.2 NVMe support will be limited. But if this is for a budget build, chances are M.2 NVMe won't be high on the list anyway.
Intel Pentium G3258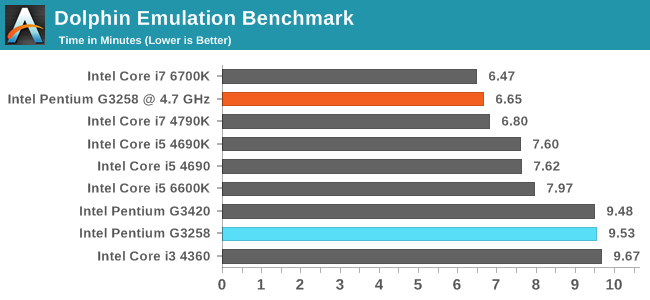 That Triple-A Gaming CPU for Single GPU Systems:
Intel i5-6600 ($213)
The nature of high end gaming is currently in a state of flux. Most of Intel's quad-core processors do the job up to 4K single player gaming quite easily, with or without overclocks, and the i5-6600 is the one we've tested where it stands toe-to-toe with the larger i7 parts or the high-end desktop processors. The i5-6600 is a quad-core part without hyperthreading, starting at 3.3 GHz and pushing to a 3.9 GHz turbo for an official TDP of 65W.
The reason I say gaming is in flux is the big unknown in DirectX 12: as part of the DX12 platform, having more cores to perform asynchronous CPU physics or issue more kernel calls should help with graphics fidelity, making more complex scenes quicker to render: but will it allow simpler scenes to push 60, 90 or 120 frames per second? At this point, until some proper DX12 titles hit the market in full swing, we won't know. What we do know is that for virtual reality, a modern Core i5 certainly fits the bill, especially in terms of latency to hit the 90 FPS quoted to ensure immersion without inducing nausea. For most current titles out however, the Core i5 will hit the asymptotic frame rate limit of a high-end GPU or be within 5-10% of it.
For users willing to push the boat for an overclock, the Core i5-6600K (at 3.5-3.9 GHz) is another $30 ($243). Many users consider Xeons for the i5-K part, and the most applicable one here is the E3-1230 v5 (at 3.4-3.8 GHz). At $250 it loses overclocking, high-speed memory and 100 MHz from the CPU frequency but enables hyperthreading, making it more like a Core i7-6700 but $50 cheaper. The only downside is that Intel's Skylake Xeons require a server class chipset, the C232 and C236, which restricts motherboard choice.
Intel Core i5-6600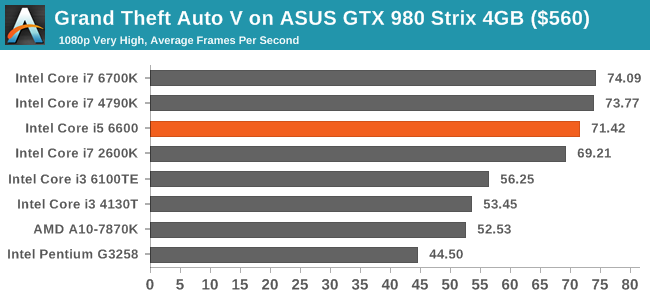 Going for eSports without a Graphics Card:
AMD A10-7860K ($118) or Intel Core i5-5675C ($277)
My personal list of eSports or eSports-like titles comes in with DOTA 2, Counter Strike: Global Offensive, League of Legends and Rocket League. These titles are relatively simple to run on most graphics situations, and even when pushing the extreme details are fairly easy to render on any graphics card north of $150. This makes integrated graphics a nice entry point for users interested in eSports, allowing them to upgrade to a larger graphics card at a later date when they want to run the latest graphics cruncher. The two CPUs I've chosen here are the A10-7860K, one of AMD's latest Kaveri Refresh parts that comes with a 95W cooler as standard and a really nice price, and the a king of integrated graphics in the Core i5-5765C, using 128MB of eDRAM to handily accelerate CPU-to-memory transfers which are vital in integrated graphics.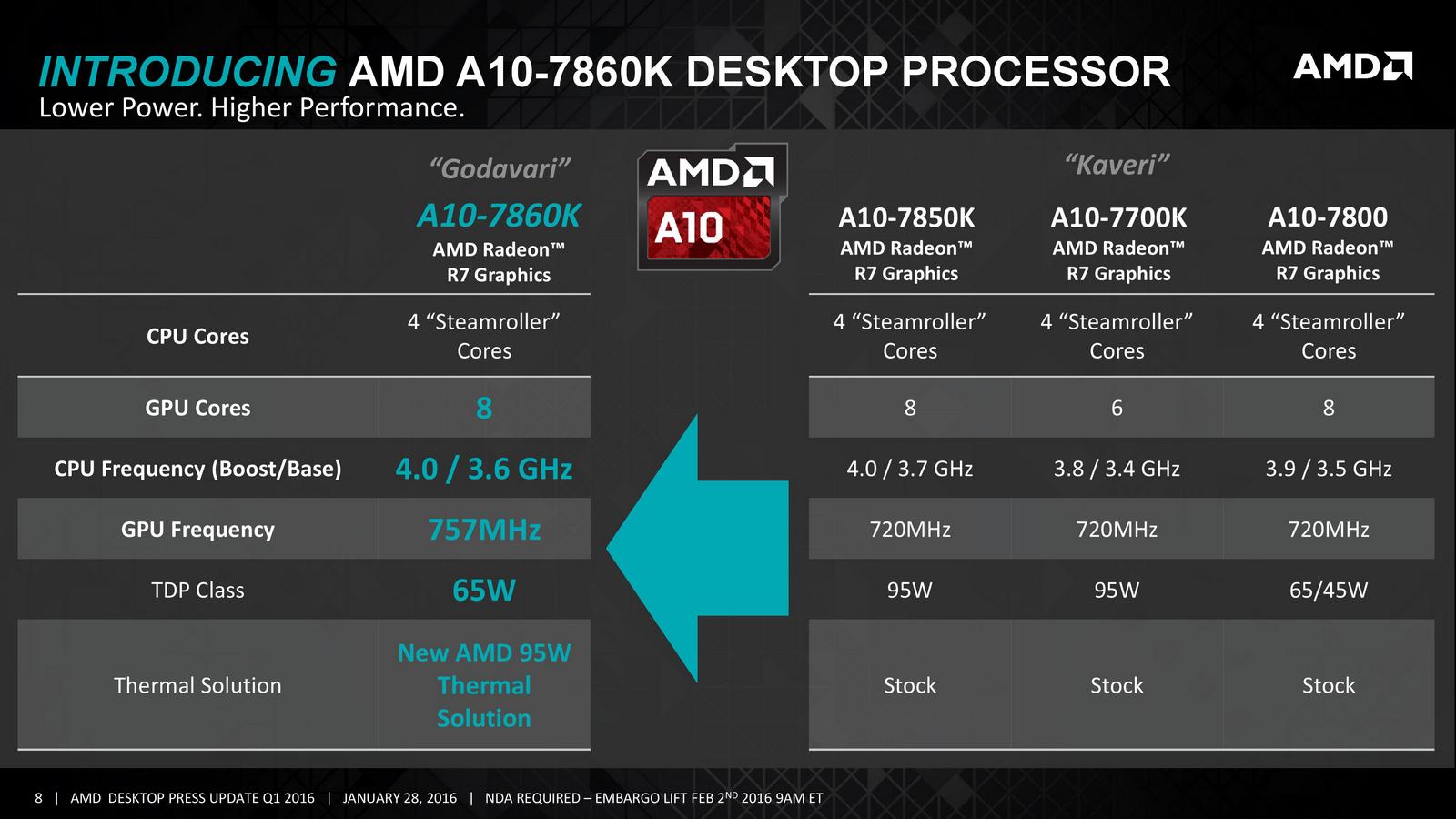 The A10-7860K from AMD is a new Kaveri Refresh part, replacing a few other older Kaveri units, but comes in with four threads, a full complement of eight compute units (512 SPs, the most we've seen on an APU), a 65W TDP, but is bundled with a 95W cooler as standard all for $118. Users can also look into overclocking this APU with that extra headroom, promising more performance. When we reviewed the A8-7670K with Rocket League, with 25% less GPU power we saw 1080p Medium settings going above a minimum 35 FPS, and with the A10 should be near a full 60 FPS average, especially with an overclock and/or fast memory.
AMD A10-7860K APU with R7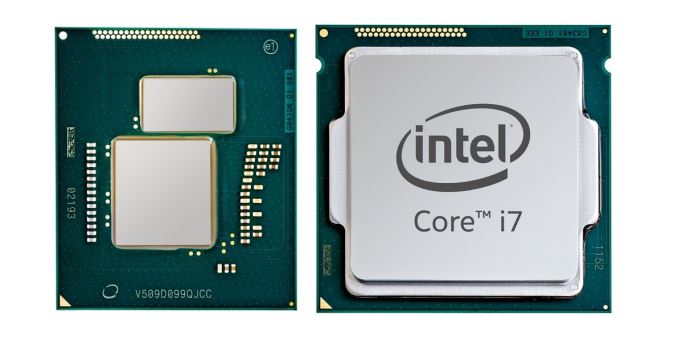 The Core i5-5675C from Intel uses two things: Intel's largest integrated graphics on a desktop CPU, and 128MB of eDRAM as a quicker memory store to pull graphics and texture data from. With gaming, the bandwidth between the graphics cores and video memory is a vital factor in performance, and the eDRAM boosts the potential bandwidth from 25 GB/s on DDR3 to 50 GB/s bi-directional, while also decreasing latency. This eDRAM is part of Intel's Crystalwell line, of which only two desktop parts have ever been released (and can be difficult to find). But when we reviewed both this i5 and the more expensive i7-5775Cthey came top of the roost for integrated graphics performance.
Intel Core i5-5675C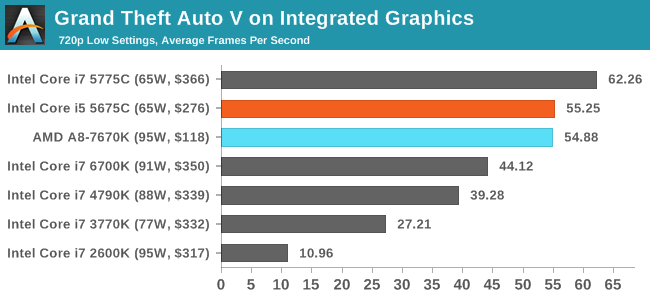 It is worth noting that DirectX 12 enables multi-adapter gaming, and if the game engine supports it, an integrated graphics unit can work with a discrete graphics card for improved gaming performance. So users investing in an eSports-focused integrated graphics system today and then a larger discrete graphics card for triple-A titles later might be able to take advantage of multi-adapter gaming on certain titles.
Going High End Desktop:
Intel Core i7-5820K ($396) or Intel Core i7-5960X ($999)
Sometimes all a consumer wants is power and cores. Without moving into the enterprise ecosystem for Xeons or Opterons, there are three real choices for a power user or prosumer. We reviewed the three Haswell-E Core i7 parts back in August in 2014, where an 8-core part, a 6-core part and a 6-core part with reduced PCIe lanes were put on sale. At the time we ended up with two suggestions: If you need 8 cores, then there's only one choice in the i7-5960X, but if you just need DDR4 and are not strict on PCIe lanes then the i7-5820K performs the same as the mid-range part for $200 cheaper in dual GPU gaming at x16/x8 rather than x16/x16.

Intel Core i7-5820K 6-Core
Intel Core i7-5960X 8-Core

The danger of suggesting these Haswell-E parts for the high-end desktop (HEDT) is that these parts are almost two years old, and no matter which way you slice it users are talking about when and where the Broadwell-E will be launched, and most arrows are pointing to mid-year. At this point the product line-up for Broadwell-E, along with the launch date, is all speculation. But we do know that they will be drop-in parts for the current crop of X99 motherboards, allowing users to invest in a Haswell-E system today and upgrade in the future (with a BIOS update).
A VR/Future Proof dual GPU System:
Intel i7-4790K ($350) or Intel Core i7-6700K ($350)
2016 is set to be the year when Virtual Reality gaming starts becoming 'a thing'. We've done some beta testing of upcoming games, with headsets and titles almost ready to launch in a matter of weeks. One of critical points that both the Oculus Rift and HTC Vive will have to combat is the fact that (as quoted by several sources) only 1% of the current gaming PC community has enough grunt or the required connections to run a VR headset (compared to Playstation VR, where everyone has the hardware). Both Oculus and HTC have announced minimum specifications that all games will have to hit 90 FPS as a minimum to be considered ready for VR: this is typically a Core i5 processor and a GTX 970 or AMD R9 290 in tow, making the minimum price for a new VR build around $200 for the CPU and $300+ for the graphics card, plus another $300-$500 in other components. What if you've got a pair of high-end graphics cards ready to go? What CPU would give the most benefit here?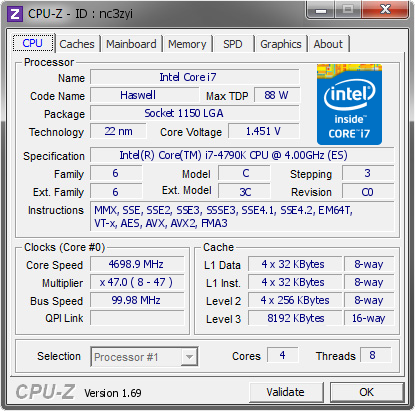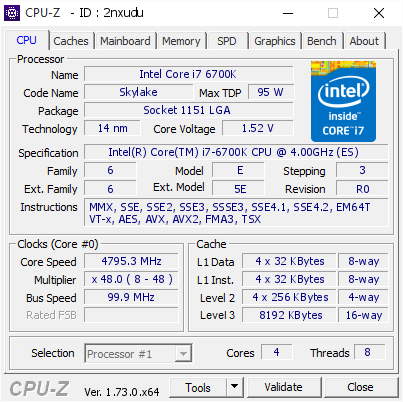 Core i7-4790K overclocked to 4.7 GHz (left)
Core i7-6700K overclocked to 4.8 GHz (right)
The simple answer here usually comes down to two choices – the latest Intel Skylake Core i7-6700K or the higher frequency and overclocking focused but slightly older Devil's Canyon update in the Intel Core i7-4790K.  Out of the box the i7-4790K has a higher turbo speed, but an older microarchitecture and both can be overclocked to around 4.7 GHz fairly easily as shown in our reviews. Because the i7-4790K is older, it can arguably found in bundles and cheaper than its original MSRP: $320 at Newegg and Amazon with cheaper Z97 motherboards compared to the inflated price of the i7-6700K which sits at $370-$374 with newer Z170 motherboards. If we're going for future-proof, then the i7-6700K uses the 100-series chipsets on its motherboards, allowing for access to DDR4, M.2 PCIe 3.0 x4 support with NVMe, some motherboards with Thunderbolt 3 and USB 3.1, and the voltage regulator is back on the motherboard which has the potential to reduce heat issues.
Intel Core i7-4790K
Intel Core i7-6700K

Using Handbrake converting a low-quality video as a benchmark that relies more on frequency and responsiveness, the testing doesn't show much difference between the two processors at stock but both get a decent boost with the overclock, especially the i7-6700K. With the i7-6700K being more feature-packed I would perhaps be prepared to absorb the inflated price difference if I already had graphics cards on hand.
Honourable Mention for Price/Performance:
AMD Athlon X4 880K ($95)
For anyone building a budget conscious mid-range possible gaming system with a discrete graphics card, the upcoming Athlon X4 880K processor from AMD offers some nice value. Under the hood this is essentially a 100 MHz faster version of the A10-7870K which we reviewed, but as it does not have integrated graphics this allows all the power budget to be put squarely onto the overclockable CPU. Pairing it with a mid-range graphics card, such as the R9 380X or GTX 960 for around $200, makes a system easily capable of high-end graphics consistency on eSports titles and mid-range quality settings at 1080p for the major titles of the year.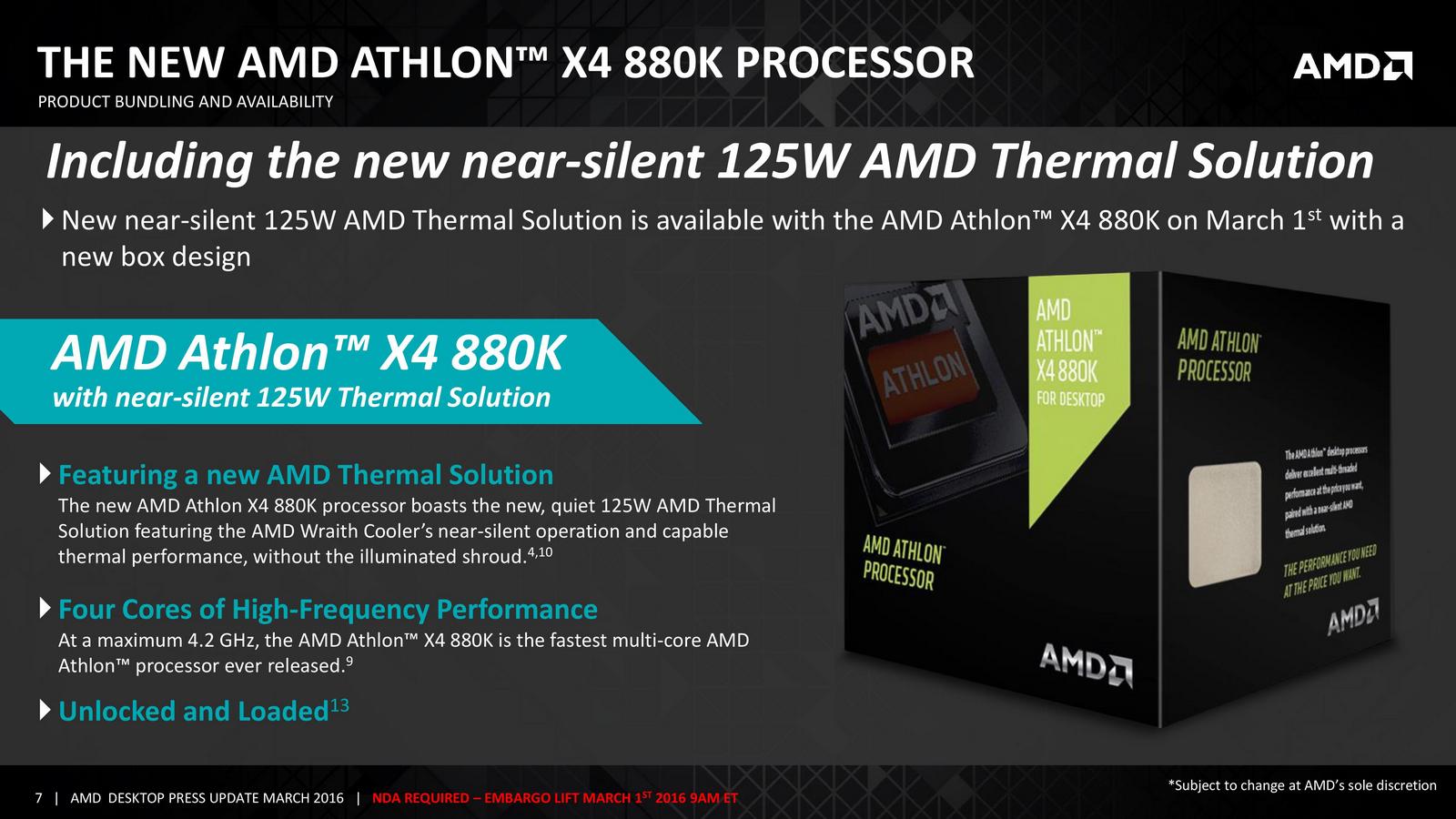 The X4 880K also comes with AMD's new 125W near-silent stock cooler, saving a few dollars. We put together a simple system: Athlon X4 880K, 2x8GB of G.Skill DDR3-2400, the new 480GB OCZ Trion 150 SSD, a GIGABYTE GTX 960 4GB, an EVGA 600W 80+ Bronze, a Corsair case and an ASRock FM2+ ATX motherboard for $634. Just add an operating system and it hits the price/performance curve at a nice spot.
AMD Athlon 880K
Athlon X4 880 Mid-Range Build
Part
Price
AMD Athlon X4 880K (with cooler)
$95
ASRock FM2A88X Extreme4+
$75
G.Skill RipjawsX 2x8GB DDR3-2400
$63
OCZ Trion 150 SSD, 480GB
$118
GIGABYTE GeForce GTX 960
Mini-ITX OC Edition, 4GB GDDR5
$190
Corsair SPEC-01 RED Chassis
$48
EVGA 600B 600W 80+ Bronze PSU
$45
Total
$634
[source :-anandtech]