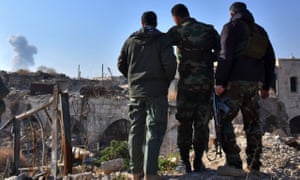 The bombardment of Aleppo will continue as long as opposition fighters remain in the Syrian city, Russia's foreign minister has said a day after pledging to halt combat operations to allow civilians to leave.
"After a humanitarian pause [the strikes] have resumed and will continue for as long as the bandits are still in Aleppo," Sergei Lavrov told journalists on Friday at a meeting of the Organization for Security and Co-operation in Europe.
Aleppo's besieged east came under sustained attack on Thursday night and throughout Friday despite Lavrov's claims of a humanitarian pause, raising questions about the Kremlin's commitment to a ceasefire deal and its leverage over President Bashar al-Assad.
Residents of east Aleppo said a number of neighbourhoods had been subjected to relentless bombardment, including rocket attacks, helicopter bombings and gunfire.
"Bombing never stops," said Abdulkafi al-Hamdo, a teacher in east Aleppo, in a text message.
Sources close to the opposition say the Russians are unwilling to halt the campaign without an agreement by the remaining rebels to leave the city. Lavrov had said the Syrian military would halt all activity in Aleppo to allow civilians to leave the besieged districts that were still under rebel control.
Yasser al-Youssef, a spokesperson for the Noureddine al-Zinki rebel group in east Aleppo, said: "The regime and the Russians are putting out propaganda saying the Aleppo frontlines are relatively quiet. This is absolutely false. The airstrikes and artillery bombardment are ongoing on all districts of Aleppo and all the frontlines are on fire."
On Friday the UN's human rights office expressed concern about the fate of civilians who had left rebel-held areas, saying there were reports that hundreds of men from eastern Aleppo had gone missing after crossing into regime-controlled districts.
"Given the terrible record of arbitrary detention, torture and disappearances, we are of course deeply concerned," said Rupert Colville, the UN's human rights spokesman.
Reports have emerged in recent days from families in opposition areas who said they had lost contact with relatives who had crossed over. The opposition says it believes some of the men have been forcibly recruited or tortured.
Syrian soldiers and Iranian-backed Shia militias have spearheaded an assault on east Aleppo, three months into a siege that has left quarter of a million civilians in the area, which has been under opposition control since 2012, starving and without any functioning hospitals.
Assad's forces are within sight of a key victory in the war, now in its sixth year, having seized more than two-thirds of east Aleppo, including the historic Old City. Their defiance of the Russian pledge for a brief ceasefire highlights their confidence that reclaiming the city is within reach, and the limits of Moscow's influence over its allies' actions.
"Aleppo will completely change the course of the battle in all of Syria," Assad said in an interview with the Syrian newspaper al-Watan.
But there was little change on the ground on Friday, with rebels apparently holding their ground in the face of the government's advance. Rebel fighters have committed to a last stand in the face of overwhelming odds and despite reports that some factions want to leave to spare the civilians. "Absolutely none of the revolutionary factions will leave Aleppo," said Bassam Mustafa, a member of Noureddine al-Zinki's political office.
Rebel fighters had called for a five-day ceasefire to evacuate the wounded and any civilians wishing to leave. They said they had discussed the mechanics of the evacuation with the UN but had been stymied by a lack of cooperation from Moscow.
People aligned with the military opposition say they were compelled to withdraw from other districts earlier this week to avoid being cut off and besieged, but say they will not retreat beyond the current frontlines.
Turkey, a stalwart backer of the rebels, accused the Assad regime on Thursday of committing war crimes and crimes against humanity but said it was involved in negotiations with Russiaover a possible ceasefire.
"The developments in Aleppo are of serious concern for all of us," said Ibrahim Kalin, a spokesman for the Turkish president, Recep Tayyip Erdoğan. "The regime continues to openly commit war crimes and crimes against humanity. We call for an end to the clashes and the delivery of humanitarian aid. We continue our diplomatic efforts for Aleppo."
Turkey's previous silence over the escalating assault has been seen by observers as a sign of an understanding with Russia – that its aim is no longer the overthrow of Assad but the creation of a buffer zone in northern Syria to limit Kurdish ambitions for an autonomous region and to put an end to Islamic State attacks in Turkey's interior.
Meanwhile, the opposition claimed chlorine gas had been deployed on one of its neighbourhoods, al-Kallaseh, on Thursday afternoon.
"To everyone who is able to help, to all governments, journalists, civil society organisations, Aleppo is dying," said Abu Jaafar, a forensic medicine doctor in east Aleppo, in an audio message. "There are massacres everywhere. They are killing everyone. Stop the massacres targeting what is left of people and stones. I urge you to use all of your power to save whoever is left. We are done here. This may be my last call."