Slackware is one of those Linux distros often described as being difficult to use. The Slackware Project version 14.2 released on July 1 does little to change that view — at least, as far as installing it is concerned.
Its KDE desktop is probably the most contemporary trait. Other than an update under the hood, the latest Slackware release offers little that's new in terms of usability and few new features. If you are comfortable with Debian-style Linux distros, prepare to be uncomfortable.
The Slackware distro is the world's oldest surviving maintained Linux distribution. Patrick Volkerding created the Slackware Linux distribution in 1993, based on Softlanding Linux System. Slackware is the basis for many other Linux distributions, including the first versions of Suse Linux distributions.
Slackware's goal is to offer design stability and simplicity as the most Unix-like Linux distribution. It does that by avoiding as much as possible any modifications to upstream software packages. Unlike more modern Linux offerings, Slackware has no graphical installation procedure and no automatic dependency resolution of software packages.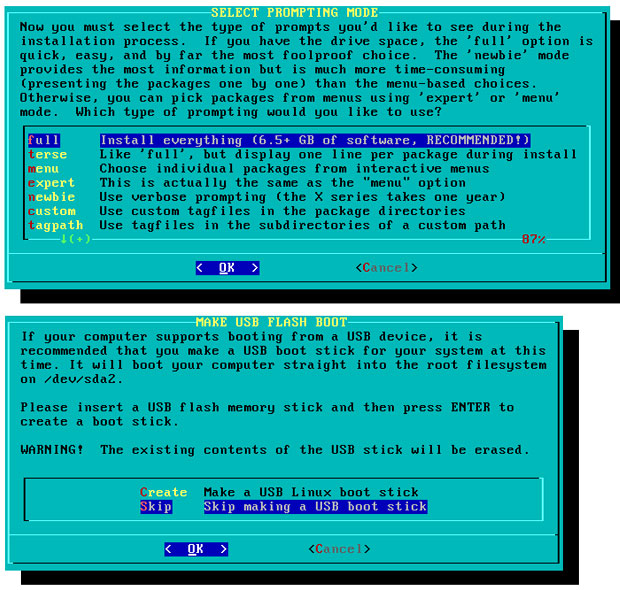 Slackware uses a simple text-based installer rather than a graphical approach to automating the installation process.
It uses plain text files and only a small set of shell scripts for configuration and administration. It boots into a command-line interface environment. Thus, Slackware is best used by advanced and technically inclined Linux users.
Under the Hood
Slackware is difficult to install and set up for lesser-experienced Linux users, but the new version otherwise seems as spry as the more popular distros. Newer-style desktop environments, such as Cinnamon, and old favorites like LXLE are missing.
Slackware ships with Linux kernel version 4.4, along with rather current desktop updates such as KDE 4.14 and Xfce 4.12.1, and it fancies older style desktops such as Fluxbox 1.3.7 and Blackbox 0.70.1. These supported desktops use many of the specifications from Freedesktop.org . Thus, system administrators can grant use of various hardware add-ons to users' group membership.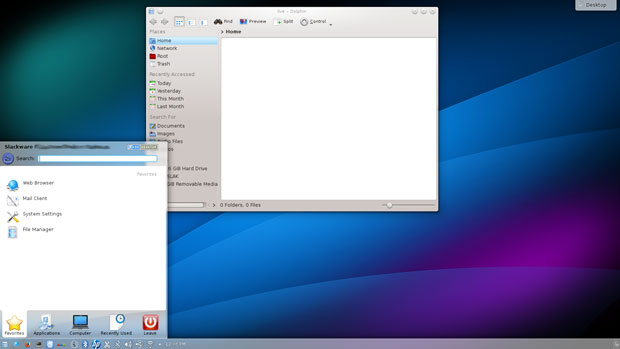 The KDE desktop provides a heavy-duty user experience on Slackware 14.2. Other choices are Sfcw, Fluxbox and Blackbox.
The 64-bit build of Slackware supports booting on UEFI-enabled hardware. This release has many updates and enhancements.
Slackware is available for the IA-32 and x86-64 architectures, with a port to the ARM architecture. Slackware does not have a formal bug-tracking facility or public code repository, however. The developer issues releases periodically.
Slackware provides users with its own software repositories. Slackware is a very fast, stable and reliable Linux distribution.
Slow Updates
Since the initial stable release of Slackware 1.0 on July 16, 1993, the developer has issued infrequent major updates. The last major upgrade was version 14.0 on Sept. 26, 2012.
Version 14.1 appeared on Nov. 4, 2014. Slackware 14.2 is an incremental update. It includes a switch to PulseAudio.
The most predominant change with Slackware 14.2 is the replacement of ConsoleKit (user and session tracking) and udev (device manager) with new forks as ConsoleKit2 and eudev. It eschews the Linux distro trend of changing to the systemd initialization process.
Slackware looks and behaves just like any other comparable Linux distribution. That is a testament to its staying power. An installation makeover would go a long way toward making the granddaddy of Linux more inviting to typical users.
One workaround of sorts is to install the live session ISO to a USB stick. You then can boot into the live session and use the USB drive as the installation source. That works on machines running both regular BIOS as well as UEFI.
System Drawbacks
Slackware does not offer automatic dependency resolution. Still, a full Slackware install leaves no unmet dependencies.
You still must find and install additional dependencies manually for anything else you add. The developer provides build scripts for a variety of additional software currently not available from the official Slackware repository.
Installing Slackware can be an exercise in futility, especially for users who just want a Linux distro that works without an IT staff to make it work. If you are going to sample Slackware beyond the live session showcase ISO, spend considerable time getting familiar with the installation guide from theSlackware Documentation Project.
Slackware uses an ncurses-based installer. This is a simple text-based installer. As a result of this approach, the automated installation routine now typical for mainstream Linux distros is sorely missing with Slackware.
Ncurse is an updated library of functions for managing an application's display on character-cell terminals. The library creates a wrapper over terminal capabilities and provides a framework to create a pleasant-looking user interface in text mode. It provides functions to create windows and other visual elements during the installation process.
One drawback for newcomers to Slackware methodology is its lack of a built-in partitioning tool. The most difficult part of the process for new users is the manual disk partitioning if they want to set up a dual boot on the hard drive. To handle that chore, do the partitioning with Gparted or similar tools before attempting the installation.
Two Different Worlds
You can try out Slackware 14.2 without modifying your disk drive — but do not expect your actual experience with the installation to be out-of-the-box hassle free. The Slackware Live Edition has no provision for clicking an icon to start an automated graphical installation.
The live session, like a typical non-Slackware live session, boots your computer into a complete Slackware installation that can run from a CD, DVD or USB. You can expect standard components to work because the configuration is preinstalled. That does not happen with an actual Slackware installation.
You can not run the Slackware live session ISO in a virtual machine environment. I had no trouble getting it to load in a VM session — but loading was all it did. Once the desktop filled the VM window, the session seem to freeze. I could not open the Slackware menu or even log out of the session.
Limited package management is handled by the Pkgtool. This is a menu-driven package maintenance tool provided with the Slackware Linux distribution. It lets you add, remove or view software packages through an interactive system.
This tool makes it easier to install or upgrade packages via downloads. With slackpkg, you can have a minimal installation of Slackware Linux and install/upgrade only those packages you need the most.
Bottom Line
Slackware is a throwback to the early days of the Linux OS, and it may not have much relevance to anyone but diehard Slackware fans. Still, experienced Linux users looking for a change of pace might enjoy setting up a Slackware system.
The documentation and user guides are fairly detailed, but they are heavy reads that will frustrate the typical new user. Those without a strong technical background will see a big disconnect in going from the live session "Slackware demo" to a functioning Slackware installation.
Want to Suggest a Review?
Is there a Linux software application or distro you'd like to suggest for review? Something you love or would like to get to know?
Please email your ideas to me, and I'll consider them for a future Linux Picks and Pans column.

[source :-technewsworld]