---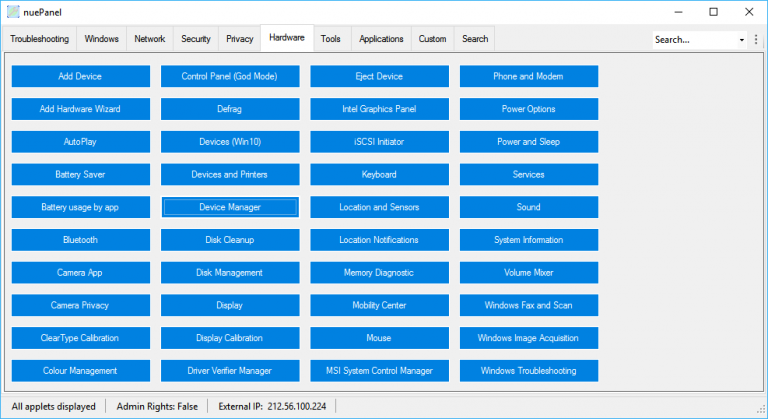 It's easy for me to poke holes in other people's software, at least some of the time: oddball interfaces, missing functions, horrible performance, whatever it might be. But does that mean I have enough understanding of software to do any better myself?
That was an interesting question, I realized, and there was only one way to find out: I had to develop something of my own.
But what? With limited time (and ability, probably), there was no point going for something bulky, an office suite or graphics editor. I had to think more NirSoft-sized than Adobe.
Something basic, then. Lightweight. But that was okay: the goal here wasn't to come up with The Best Program In The World, more to take a simple idea and make it work as well as I possibly could.
A week or two later, the result was nuePanel, a sort-of alternative Control Panel which gives speedy access to 150+ built-in Windows applets, apps, troubleshooters and tools, and has a few handy extras thrown in. It's a familiar idea, but in some ways that made it more of a challenge. Had I make enough good design decisions to justify its existence?
I think convenience is key with this kind of tool, so the download is small (413KB), there's no installation, the archive includes 32 and 64-bit editions and they both run on anything from Windows 7 up.
The interface is, well, basic. If I were reviewing it I'd probably say it looked like it was thrown together in 5 minutes, but I'd be wrong: it was much, much less. Still, I think it does have some useful functions.
The program takes a very simple approach, with multiple topic-based tabs at the top of the window, and each one containing buttons for related applets. "Troubleshooting" has "Command Prompt", "Control Panel (God Mode)", "System Restore" and 30+ others; the "Windows" tab includes items like "Windows Update" and "Folder Options"; the "Network" tab gives access to the Network and Sharing Centre, your network connections and more; and, well, you get the idea.
You'll have immediate questions, like "will Device Manager be on the 'Troubleshooting' tab, or 'Hardware'?", but I've tried to anticipate them and it's actually on both. Others are duplicated, too, when it seemed to make sense, so you're less likely to waste time looking for items.
If there are too many buttons and your needs are simple, hitting Ctrl+Shift+H (or Tools > Hide) hides some of the less-commonly-used or more advanced applets like "iSCSI Initiator".
If that's still not enough, type a keyword in the Search box and hit Enter to view any matches. These may give you both text matches and some related items, so for example searching for "disk" gets you "defrag" as well as "disk cleanup" and "disk management".
There are some bonus items you might not expect. "Router Settings" tries to open a browser page to view your router console; "Event Viewer (last 24 hours)" displays recent significant Windows events; the "Applications" tab has buttons to launch Chrome, Firefox, IE and Office applications in Safe ("no addons") Mode.
The status bar has some potentially useful panels. If nuePanel isn't running as an administrator, you'll see "Admin Rights: False" — double-click this to relaunch the program as admin. And a network panel tells you if you've no network connectivity, or tries to display your external IP if you do. Double-click this later to run another on-demand check.
The other main feature is the ability to add custom commands of your own by editing a text file. These can't do anything amazing — they're just items you might enter at the command line — but the "Custom" tab has examples to display all your scheduled tasks, drop or raise the Windows firewall, view the Windows 10 product key, open the Sysinternals website, and more. (Beware, right now these are always displayed in full, whatever your version or edition of Windows, or admin rights, so they may not always work.)
Is nuePanel a success? Trying to be unbiased, I think it has some worthwhile features, but experienced users will probably still find it easier to use Windows Search and the regular Control Panel. Still, check it out if you're interested in this kind of tool. And who knows — if I come up with a better idea, I might try this again.
[Source:-BETA NEWS]