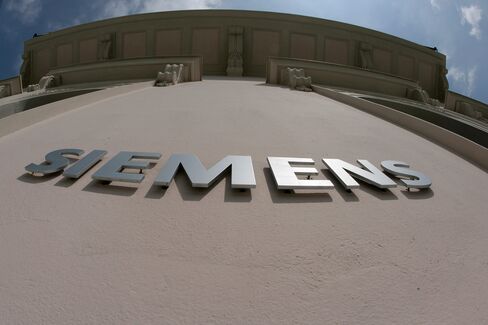 Siemens AG agreed to buy Mentor Graphics Corp. for $4.5 billion in its biggest acquisition since 2014 as the German engineering company extends its industrial software capability.
Siemens will pay $37.25 a share for Wilsonville, Oregon-based Mentor, the industrial giant said in a statement on Monday. That's 21 percent above the closing price on Friday. Elliott Management Corp., which owns 8.1 percent of Mentor's shares, backs the offer, Siemens said.
The acquisition "will allow us to supplement our world-class industrial software portfolio," Siemens board member Klaus Helmrich said in the statement. "It will complement our strong offering in mechanics and software with design, test and simulation of electrical and electronic systems."
The deal follows the $970 million January purchase of CD-adapco of the U.S. as Siemens seeks to grow its digital business as part of a retreat from consumer-oriented products to focus on industrial applications. Mentor is the biggest acquisition announced by Siemens since it agreed to buy Dresser-Rand Group Inc. for $7.6 billion. For its part, Mentor was under pressure to increase shareholder value from activist investor Elliott, which doubled its stake in Mentor in September.
Siemens shares rose 1.2 percent to 109.45 euros as of 9:14 a.m. in Frankfurt.
The purchase is expected to boost Siemens's earnings before interest and taxes by more than 100 million euros ($108 million) within four years of closing and will contribute to earnings per share within three years, the company said.
'Deeply Undervalued'
Mentor reported a loss of $10 million in the six months ended July 31, compared with profit of $21 million in the same period last year, according to an Aug. 18 regulatory filing. The company forecast revenue of $1.22 billion for the 12 months through January.
Under Chief Executive Officer Josef Kaeser, Siemens has pushed deeper into software applications that are crucial to run its industrial equipment. At the same time, Siemens is simplifying its sprawling portfolio, and the company announced last week that it wants to list its health-care subsidiary, among the biggest maker in the world of diagnostics and imaging equipment.
Elliott, run by billionaire Paul Singer, said when it raised its stake it saw numerous opportunities to boost Mentor's "deeply undervalued" shares and had started talks with the company's management and board.
The agreement comes almost six years after activist investor Carl Icahn unsuccessfully pushed for a sale of Mentor. He bid $17 a share in February 2011 for Mentor in an attempt to lure other suitors for the software maker. Icahn, who was Mentor's largest shareholder at the time of his bid, sold a chunk of his holding back to the company at $18.12 a share in February of this year, and he sold his remaining stock in May.
[Source:-Bloomberg]