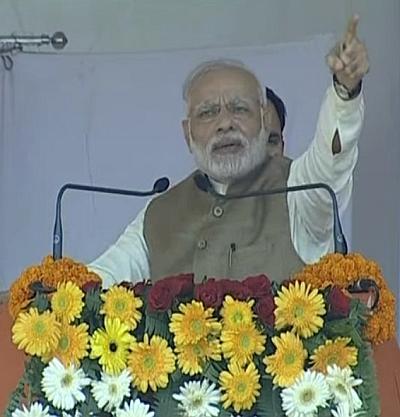 Prime Minister Narendra Modi on Sunday hit out at opposition parties for their 'Bharat Bandh' call against demonetisaion, saying they are organising the strike at a time when he is trying to root out corruption and black money.
"I am stopping black money and corruption and some are giving call for Bharat Bandh," he said at BJP's 'Parivartan Yatra' rally in Kushinagar in eastern Uttar Pradesh.
Without naming any opposition party, Modi said, "We are trying to curb corruption and they are organising 'Bharat Bandh'. Should there be 'Bharat Bandh' or should the route of corruption be blocked?"
Several opposition parties have given a call for 'Akrosh Diwas' on Monday to protest against the Centre's demonetisation of Rs 500 and Rs 1,000 currency notes.
The prime minister said the decision on demonetisation was tough, "but (the) future will be bright".
Referring to the problems being faced by the common man including villagers in withdrawing money, he advised them to take the e-wallet route.
"Era of wallet has gone, you can use your mobile phone as your bank branch with the same ease with which you take snaps and send them to friends," Modi said.
Modi said just as people did not have to attend classes to learn how to use mobile phones, they can now use the device in the same way to carry out monetary transactions.
"I have already said problems do come. I have sought 50 days from you. Of these, 30 days are still left and the government is taking all efforts to assuage the sufferings of people," he said.
"Have you learnt how to charge your mobile by going to school? You have learnt to operate WhatsApp. Technology has become easy. If you have (a) bank account, you can purchase whatever you want," he added.
Amid the opposition parties creating uproar over poor implementation of demonetisation and stalling Parliament for days, Modi said he is aware that people are facing inconvenience.
"The NDA govt at the Centre is fully dedicated to the poor, farmers, villagers and dalits," he said amid applause from the crowd.
A united opposition has been attacking the Centre in Parliament over the demonetisation issue, with former Prime Minister Manmohan Singh terming the move a "monumental management failure" and a case of "organised loot and legalised plunder" which would lead to dip in GDP growth by at least 2 per cent.
Modi also attacked the Samajwadi Party government in poll-bound Uttar Pradesh, saying it was not interested in implementing central schemes for farmers.
Thanking the people attending his rally, he said that in 2014 elections when he was himself contesting from Varanasi, he visited many areas of the state but the crowd was not as big.
"As compared to today, only half of people used to come. Now a huge crowd, including women, has come to give me blessings," he said, adding, "I bow before you for the trust you have on me… I will not betray you."
[Source:-Rediff]