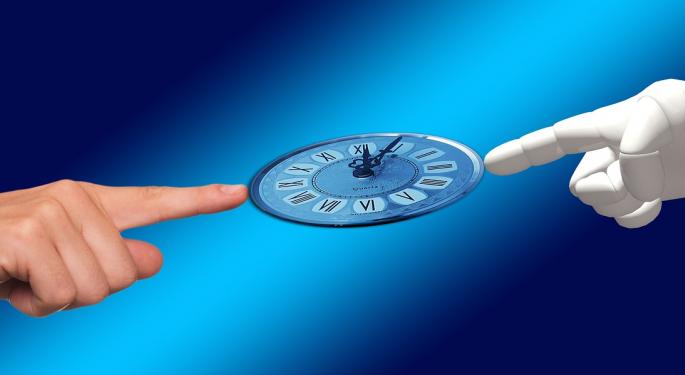 Loup Ventures is siding with the machines, concluding on Friday a series of notes analyzing the growth of robotics in the economy.
"We believe a cultural shift is underway and robots are playing an increasingly crucial role in our everyday lives," said analyst Andrew Murphy.
Murphy's modeling estimates the robotics market will grow from last year's $20.9 billion to over $221 billion in 2025. Two-thirds of that comes from related software and services.
While hardware will still be key as robotics gains its foothold in the near term, in the long term, it will likely be commoditized — software and services will then be the primary drivers of growth, making those companies in the space where investors will want to be.
The robotic revolution is already underway, despite some reassurances that the total replacement of human workers is a long way off. BlackRock, Inc. BLK is beginning to test replacing human money managers with machines.
Loup Ventures' Doug Clinton recently criticized Alphabet Inc GOOG GOOGL Chairman Eric Schmidt for behaving like a "savvy politician," suggesting that most human jobs are not replaceable to protect his company's image.
Where To Invest
Murphy sees five aspects of robotics developing into major markets:
1. Robot Control Software: Few companies will likely develop their own control software in the future, instead relying on open-source programming platforms. Moving even further out, though, machine learning systems and artificial intelligence will become key.
2. Data Analytics Software: It's no secret that robots and other devices amass huge amounts of data, and companies that develop ways for it to be processed quickly and efficiently will be critical for convincing businesses robots are worth investing in.
3. Unmanned Traffic Management Software: Drone and autonomous vehicle technologies are advancing rapidly and will be sharing air, ground and maybe even sea spaces with human operators. Manned and unmanned vehicles will need a common system to facilitate their interactions on the move.
4. Robotics As A Service: Given the high cost of investment to integrate robots into a business, companies will arise that rent and/or provide services such as processing and delivering data and operating robots on an as-needed basis.
5. Delivery Robots: Drones, and potentially even ground vehicles, will become major methods of package delivery, but will require legal reforms to allow for freer flight patterns and traffic management system implementations.
[Source"timesofindia"]