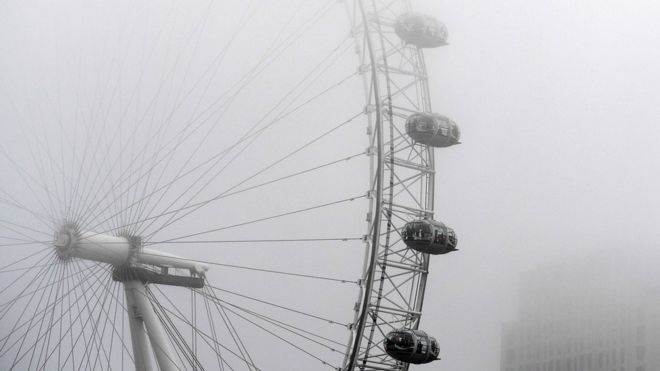 Dozens of flights travelling to and from London airports have been cancelled or delayed after fog hit the south east of the UK.
Heathrow, Gatwick and London City Airports all warned passengers to check with their airlines before travelling.
Drivers were urged to take care as the Met Office warned of low visibility.
Meanwhile, Public Health England (PHE) warned that temperatures are expected to plummet as low as -5C on New Year's Day.

Keep up to date with traffic and weather news on the BBC:
Christmas travel: What you need to know
BBC Travel
BBC Weather

Met Office meteorologist Mark Wilson said Friday's lingering, freezing fog had lingered overnight.
He added: "We think it will gradually improve throughout the morning but it will be a slow process."
Some patches of fog could persist into Saturday evening "but not so much, not as widespread or as dense".
'Very heavy fog'
A spokeswoman for Gatwick Airport, which cancelled 140 flights flights on Friday, said: "Unfortunately we are still experiencing very heavy fog across the south east."
She said a number of crew members had been displaced by Friday's cancellations, which may be contributing to the further delays.
More than a dozen easyJet flights were delayed for over an hour on Saturday morning, she added.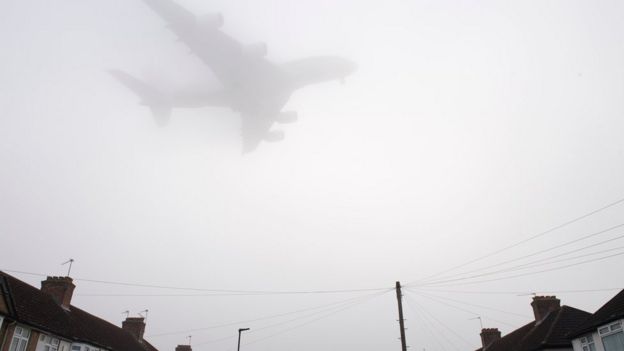 Though Gatwick is not experiencing any further cancellations, the airport "strongly advises" people to contact their airline before travelling.
A spokesman for Heathrow Airport said 45 flights had been cancelled on Saturday after being displaced by Friday's fog.
He said there were no further cancellations due to Saturday's weather conditions but warned there might be some delays.
London City Airport also warned Friday's fog had led to some cancellations on Saturday, but told travellers on Twitter that it was "operating normally today".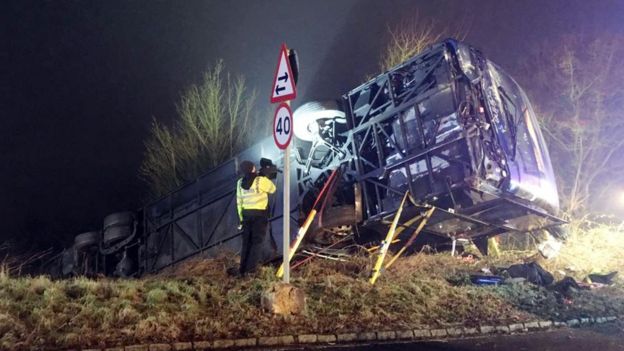 Meanwhile, Highways England said the foggy conditions of recent days underlined the importance of driving to the conditions.
Seventeen people were injured on Friday after a coach veered off a motorway slip road and overturned in heavy fog in Oxfordshire.
A spokesman for Highways England said: "Fog can come very quickly so it's important to leave plenty of space.
"The thing that's really important to remember is when it's wet it does take twice as long to stop."
On the railways a fresh strike by Southern Rail conductors is causing widespread disruption for travellers.
Parent firm Govia Thameslink (GTR) has urged people to check travel information because some New Year's Eve services will finish early.
[Source:-BBC]