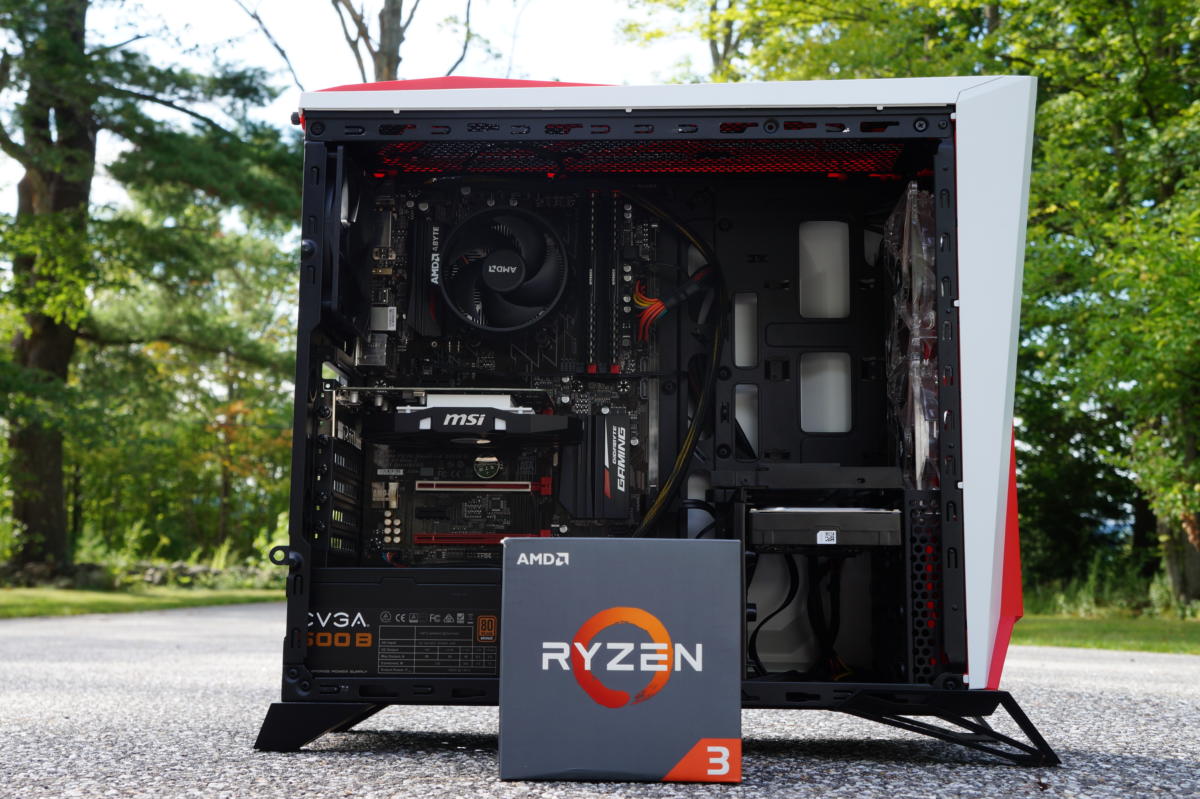 AMD's Ryzen processors sure are shaking up the status quo of computing, and now that disruption is extending to cheap gaming PCs.
The high-end Ryzen 7 lineup slashed the price of 8-core CPUs from $1,000 to as low as $330. Ryzen 5 overtook Intel's Core i5 chips as the best CPU for mainstream buyers, enabling truly versatile computer builds and 8-thread gaming PCs for previously unheard-of prices. Now the affordable Ryzen 3 series has finally arrived, and while its value proposition is a bit more mixed (as you can see in the discussion in the video below), it also unlocks new capabilities, offering competitive quad-core chips in a segment where Intel's dual-core Core i3 processors traditionally ruled the roost.
Time to see what Ryzen 3 is capable of.
Any processor can look good paired with potent hardware. To paint a more realistic performance picture, we built a quad-core Ryzen 3 gaming PC on an affordable $550 budget. This is the kind of budget desktop that a newfound or cash-strapped PC gamer would actually create. And beyond the mere act of testing a practical Ryzen 3 build, this exercise served as an excellent reminder of the flexibility of AMD's platform, this year's wild PC pricing fluctuations, and the minor headaches suffered when assembling a DIY system on a tight budget.
Enough chit-chat. Let's go!
TABLE OF CONTENTS
Cheap Ryzen gaming PC: The components
Alternatives: Build a cheap gaming PC for under $500
Building the cheap Ryzen gaming PC
Cheap Ryzen gaming PC performance
Cheap Ryzen gaming PC overclocking, final thoughts
Cheap Ryzen gaming PC: The components
The goal of this build: Creating a solid, yet cheap gaming PC with a lot of upgrade potential for the future—a strength of AMD's Ryzen ecosystem. Here are the parts we wound up with.
Processor: It all starts with Ryzen 3—the Ryzen 3 1200 ($110 on Amazon) to be specific. This quad-core chip offers modest 3.1GHz to 3.4GHz clock speeds, but as with all Ryzen chips (and unlike affordable Intel Core i3 chips), you can crank those speeds higher with some manual tuning. Overclocking results vary based on the silicon lottery, of course, but the chip we used hit 4GHz no problem, and reports online suggest many Ryzen 3 1200 CPUs can be pushed to 3.9GHz without much difficulty. Free performance? Yes, please!
It's worth noting that Ryzen 3 chips lack integrated graphics, so you have to pair them with a graphics card in order to output video to your monitor. That won't matter with a gaming build, though, as we're definitely using a dedicated graphics card.
If you're not interested in manual overclocking, the 3.5GHz to 3.7GHz Ryzen 3 1300X ($130 on Amazon) comes clocked higher, but for $20 more.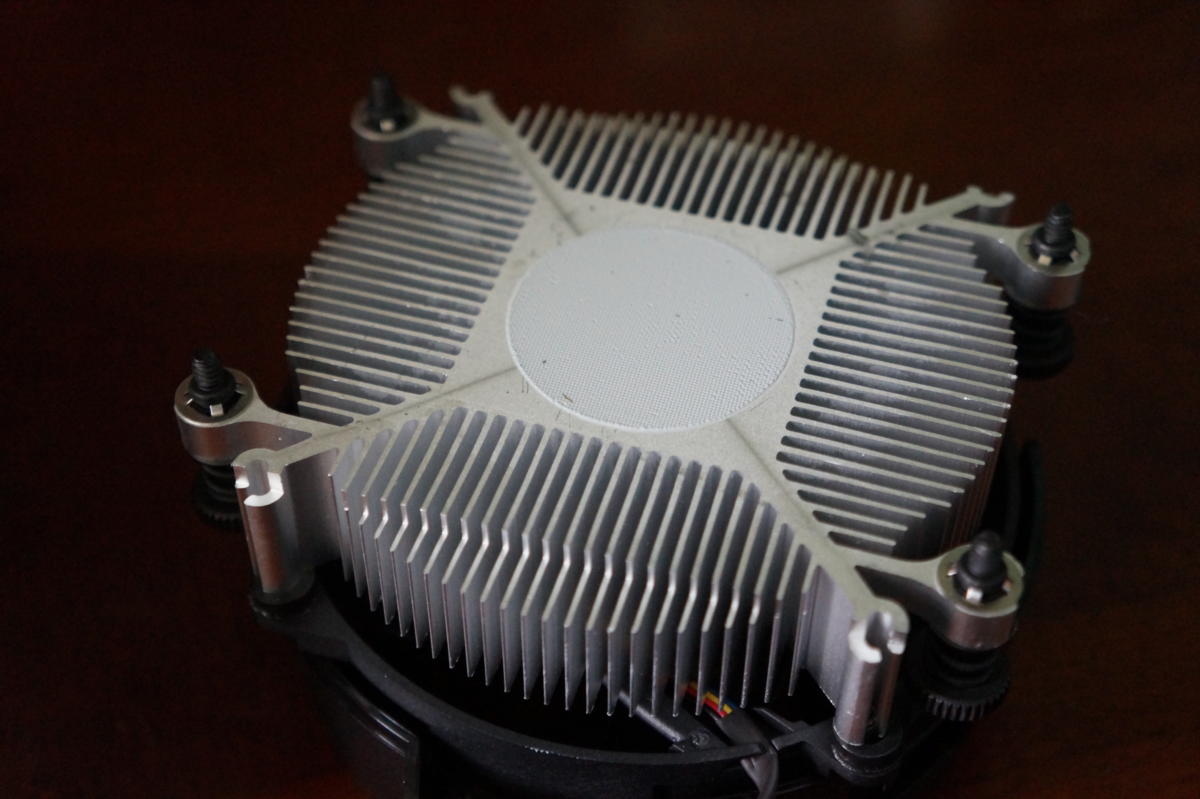 CPU cooler: All Ryzen 3 chips include AMD's Wraith Stealth cooler in the box. It's by far the least potent of AMD's Wraith offerings, and is easily surpassed by third-party solutions, but the Wraith Stealth is no slouch. It's reasonably quiet and enables pretty decent overclocks. And did we mention it's free?
If you want a bit more cooling power but want to keep costs down, Cooler Master's Hyper 212 Evo ($29 on Amazon) is an excellent budget option. You'll need to contact the company for an AM4 motherboard compatibility bracket, though.
Motherboard: All Ryzen chips can be overclocked—but only on AM4 motherboards that support overclocking. For our budget build that means we're looking for an AM4 motherboard using the B350 chipset, as high-end X370-based mobos are too costly and entry-level A320 chipset mobos can't overclock.
This build uses the Gigabyte AB350 Gaming 3. It's one of the nicer B350 motherboards available, with customizable RGB lighting, numerous PCI-E slots, programmable fan and pump headers galore, NVMe SSD support, and Realtek ALC1220 audio that outshines what you'd get on most B350 motherboards. It's great.
But here's where things get tricky. When we were pricing out the hardware for this article, the Gigabyte AB350 Gaming 3 was selling for $90. Now it's back up to the same $110 price it was at launch. We're using the $90 price for our build's total cost, but this shows just how volatile PC hardware prices can be these days.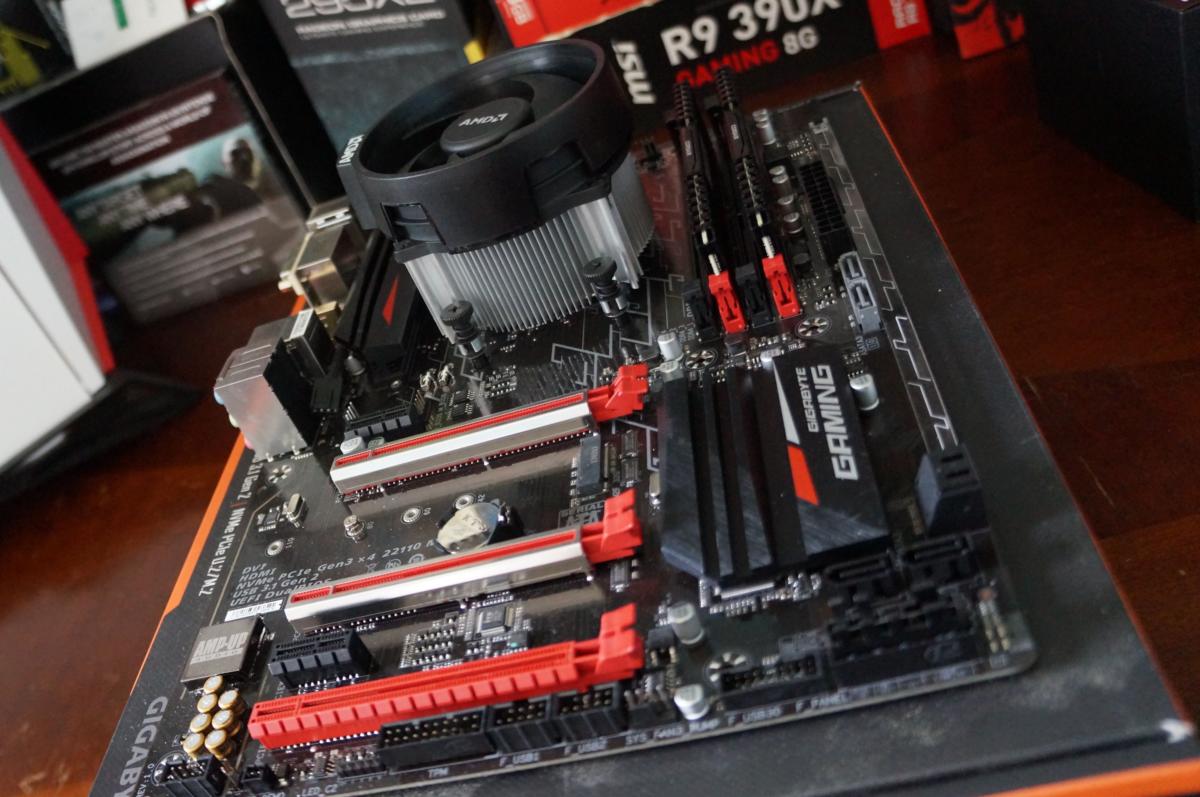 Graphics card: First the bad news: Cryptocurrency mining has sent graphics card prices skyrocketing. It's impossible to find most graphics cards at anywhere near MSRP. Now the good news: That doesn't apply to the entry-level graphics card we're using in this build! Well, kinda.
When we priced out the build, the 2GB MSI GTX 1050 cost $100. Now it sells for $115 after a $10 rebate. Bummer. Remember what I said about pricing fluctuations for PC hardware? Anyhoo, the GTX 1050 is the best budget graphics card you can buy, hitting the hallowed 60 frames-per-second mark in most games at Medium graphics settings, or 30fps at High. That puts it on par with, or slightly better than, an Xbox One, for comparison, though some especially strenuous games might require you to tinker with settings for the best results. The meager 2GB of onboard VRAM means you'll likely need to turn down the texture settings in some AAA games, but don't be fooled: This card still has game. You'll see it in the benchmarks later.As with the motherboard, don't be afraid to shop around. Pretty much all 2GB GTX 1050 cards perform identically, so it's no big deal to swap out this MSI model for a single-fan EVGA GTX 1050 or Zotac GTX 1050. If you do, be warned: Models with 4GB of RAM costs more, as does the more potent GTX 1050 Ti.
Source:-Pcworld